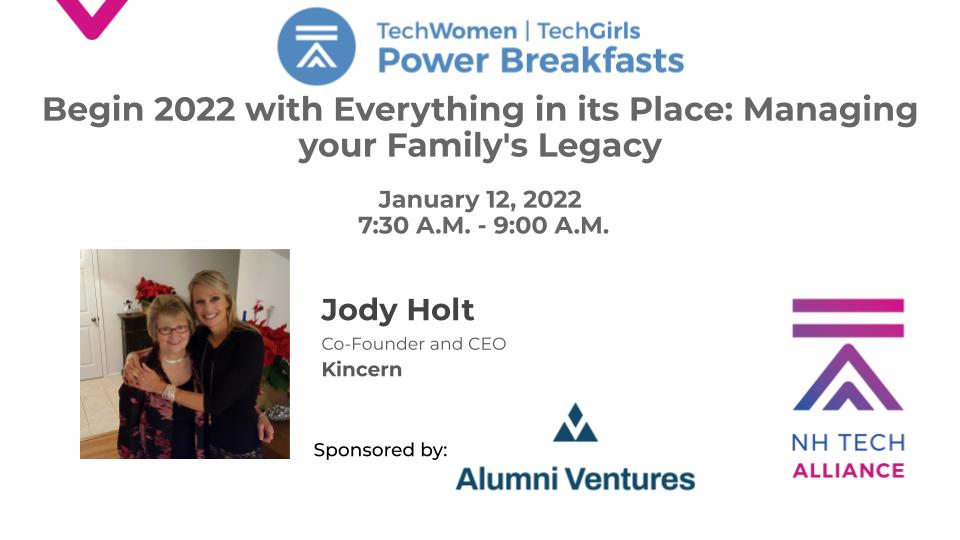 As we kick off the New Year, let's look at how we can be more organized to relieve some of the stress for all the roles we play.  As professional women, we are responsible for so many things – including much of the finances and administration for ourselves and our families. How can we use technology to help empower us to be more efficient and effective but also have that human connection that is so very important? Come ready to learn but also ready to share some of your best hacks to manage it all.
Jody is a CPA/CFO with 30+ years serving start-ups to Fortune 500 companies executing dozens of M&A transactions, implementing strategic initiatives, and increasing shareholder value.  Currently, she is the CEO and Cofounder of Kincern Inc. which is focused on helping families get organized around finances and administration leveraging technology.  Jody began her career at PwC, was formerly the CFO of Single Digits, a NH tech success story, and then most recently as the CFO of Covenant Living – the 6th largest senior living company in the U.S. Jody has also served on numerous boards & non-profits but credits her mom for teaching her to work hard, care for others and "get organized."
Each month throughout the year, an amazing group of women (and men) comes together to network, share inspirational stories, grow professionally and personally and bring awareness to what is possible for women today. Our breakfast series starts with networking via this innovative new platform followed by a presentation following. Learn more about the TechWomen|TechGirls initiative of NH Tech Alliance.