Event Categories
Have an event to suggest? Let us know.
Click To Filter or View All Events
Want these events automatically pulled into your own personal calendar?
Copy this link and import to your calendar of choice.
https://nhtechalliance.org/calendar/?ical=1

Employee Benefit Market Trends for Small to Medium Sized Businesses
November 3, 2021 @ 12:00 pm

-

1:00 pm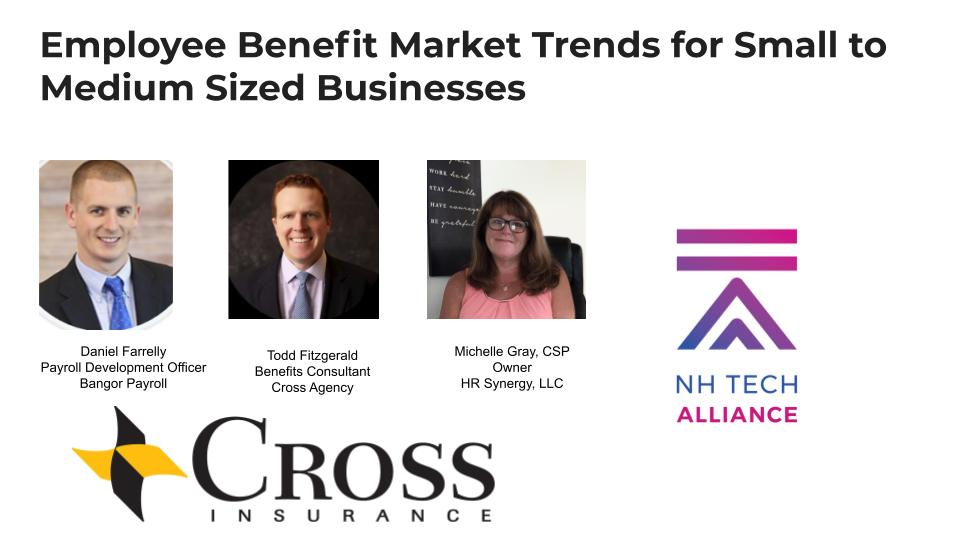 Our speakers will provide small to medium size businesses with employee benefit updates, including offering benefits for the first time. Market trends and understanding the differences between homegrown systems versus standard technology as well as recognizing when it is time to make a change. They will also cover how to automate the full lifecycle of an employee while ensuring compliance with Federal and State labor laws.
Speaker: Todd Fitzgerald, Benefits Consultant, Cross Agency
NH Small Group Marketplace Update

Offering Benefits For The First Time  

Large Group Marketplace Trends

Medical Captive Arrangements
Speaker: Daniel Farrelly, Payroll Development Officer, Bangor Payroll
Trends in the HCM world- What to look out for.

Technology in the workplace and how it impacts employer's ability to attract and retain top talent.

Pros & Cons of a homegrown system Vs standard technology.

Recognizing when a change is needed and when to implement.

The balance between technology/ service and why it's important.
Speaker: Michelle Gray, CSP, Owner of HR Synergy, LLC and Human Resource Consultant
Toss the Paper and Automate Employment Processes
Hiring

Onboarding

Time Keeping

Time Off

Performance Management

Benefit Enrollment

Offboarding
Sponsored by: