Event Categories
Have an event to suggest? Let us know.
Click To Filter or View All Events
Want these events automatically pulled into your own personal calendar?
Copy this link and import to your calendar of choice.
https://nhtechalliance.org/calendar/?ical=1

NH UXPA December Meeting – Presenting UX Work Using Spontaneous Talks Frameworks
December 16, 2021 @ 6:30 pm

-

8:00 pm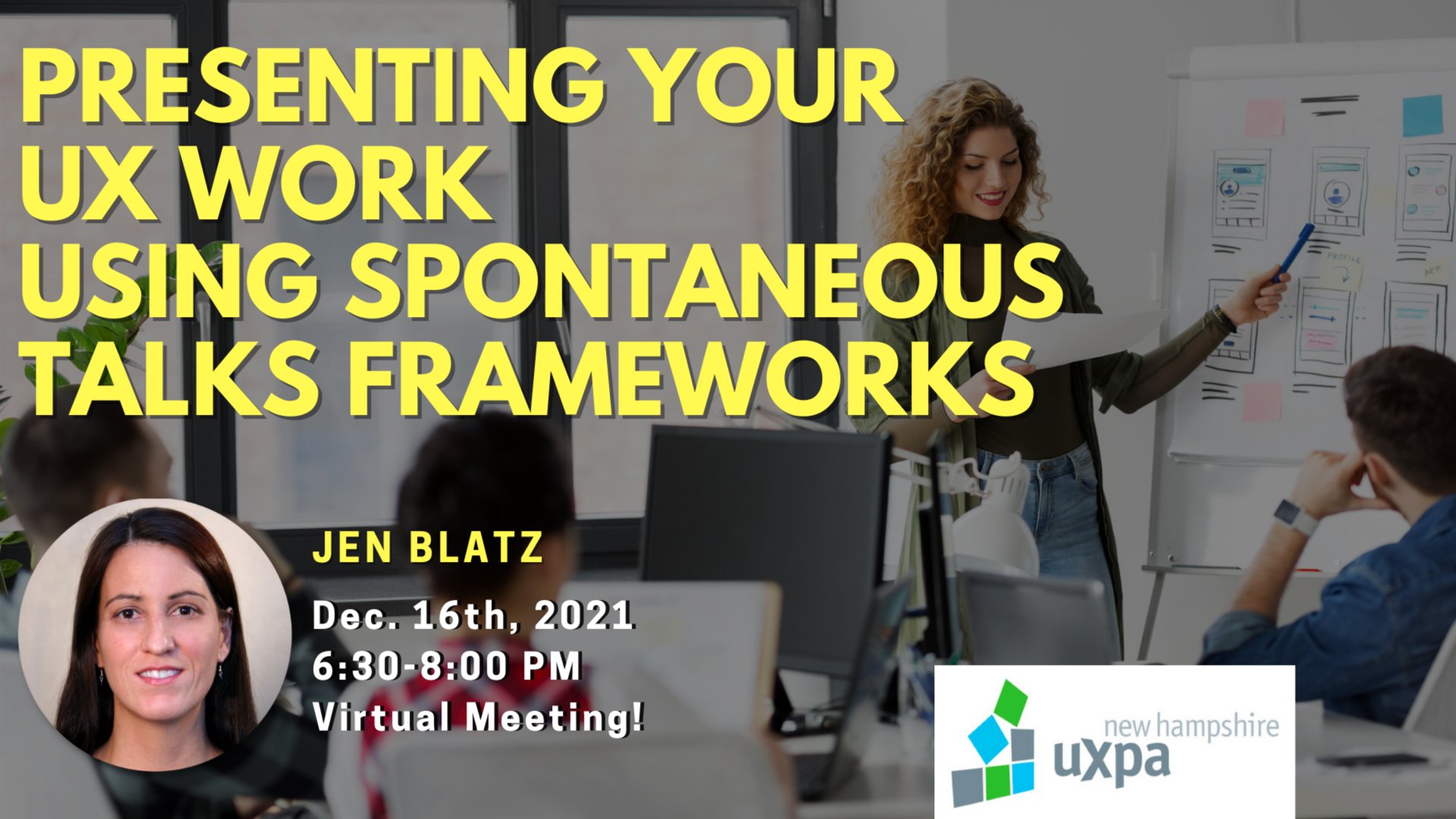 We know that articulating our design decisions or presenting the value of our user research to stakeholders can sometimes be a challenge. Spontaneous Talks Frameworks have been around for years. They are often taught at universities and are used to help people think of answers or tell stories fast and smart.
Jen is going to teach you a few Spontaneous Talks Frameworks so you can use them when presenting your work, answering tough questions or simply telling your stories. Applying these simple frameworks can help a person avoid anxiety by quickly organizing a thought, and moving forward to articulating that thought in a cohesive and eloquent manner.
Speaker: Jen Blatz
Lead UX Researcher, Rocket Mortgage
Jen Blatz is a Lead User Experience Designer and Researcher with expertise that lends itself to any industry. Jen's path to UX started in journalism and graphic design where she learned the importance of aesthetics, organization, and catering content for the consumer. She has worked in a number of fields including finance, mortgage, cloud storage, security and pet health.
Jen loves being active in the UX community to learn and grow while helping others do the same. She is the co-founder and president of the UX Research and Strategy group, a 501c3 organization, with an international presence with thousands of members and followers. She is the organizer of WIAD (World Information Architecture Day) Dallas, TX, and speaker for several local meetup groups and international conferences like UX Australia, Convey UX, IAC (Information Architecture Conference), UX New Zealand, UX Research and Insights Summit and more.
Learn more about Jen on Linkedin: https://www.linkedin.com/in/jenniferblatz/
👉 YOU MUST REGISTER THROUGH EVENTBRITE TO RECEIVE THE ZOOM LINK FOR THE MEETING: https://www.eventbrite.com/e/nh-uxpa-meeting-presenting-ux-work-using-spontaneous-talks-frameworks-tickets-219240593517?aff=meetup