Event Categories
Have an event to suggest? Let us know.
Click To Filter or View All Events
Want these events automatically pulled into your own personal calendar?
Copy this link and import to your calendar of choice.
https://nhtechalliance.org/calendar/?ical=1

NH UXPA May Meeting – "Ask Me Anything" With Donna Lichaw
May 26, 2021 @ 12:00 pm

-

1:00 pm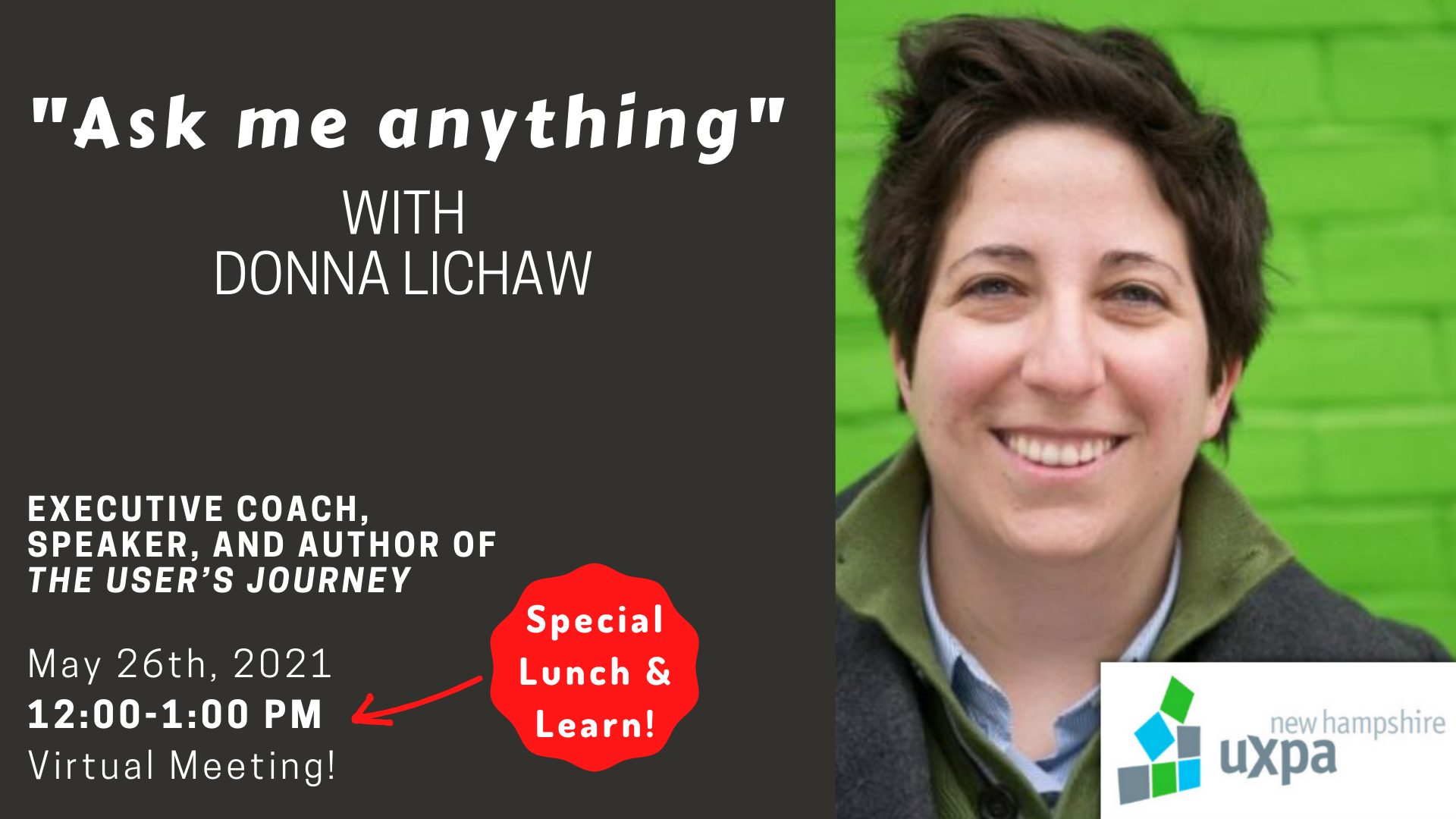 Did you ever wish you could get advice from the person who coaches executives at Apple, Google, Amazon, & Twitter? Well here's your chance!
About this Event
As an executive coach, speaker, and author, Donna Lichaw has focused on the idea of how stories can shape both the world around us and within us—for better or for worse.
In this mid-day Ask Me Anything lunch talk with Donna, we'll dive deeper into how our own personal narratives have the power to either hold us back, or to set us on a course toward unlocking our own superpowers and becoming superheros!
Whether you're an executive level leader, a mid level influencer, or just starting out on your path, join us for this exciting opportunity to learn from Donna Lichaw about the power of owning your story!
***Submit your questions!***
If you have questions for Donna, you can submit them ahead of time using this Google Form – https://forms.gle/tBXUJWZd2JyK8FBK9 or ask them real-time during the session!
Speaker:
Donna Lichaw
Executive Coach, Speaker, and Author of The User's Journey
Donna Lichaw is an executive coach, speaker, and author. Her mission is to help senior leaders and executives step into their power and accomplish incredible things at work and in the world.
Donna works with superheroes at companies like Google, Twitter, Disney, Mailchimp, Amazon, Logitech, OpenTable, AutoDesk, and Mastercard, as well as a ton of startups, nonprofits, and government organizations. Donna is the author of the Amazon bestseller, The User's Journey, a cult-classic tome on transforming customers into heroes, and Story Driven Leadership (in the works), that shows you how to be your own leadership superhero and propel you, your team, and business towards greatness.
Learn more about Donna and her coaching services at donnalichaw.com.
👉 YOU MUST REGISTER THROUGH EVENTBRITE TO RECEIVE THE ZOOM LINK FOR THE MEETING: https://www.eventbrite.com/e/nh-uxpa-meeting-ask-me-anything-with-donna-lichaw-tickets-153407430755?aff=meetup