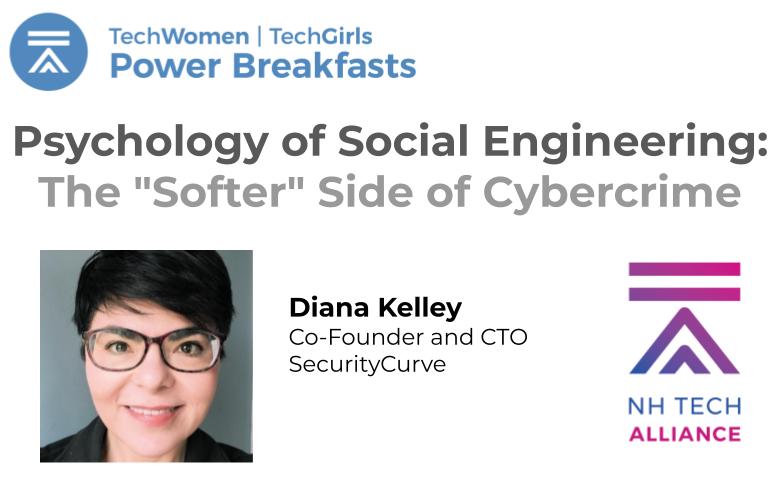 Each month throughout the year, an amazing group of women (and men) comes together to network, share inspirational stories, grow professionally and personally and bring awareness to what is possible for women today. Our breakfast series starts with networking via this innovative new platform followed by a presentation following. Learn more about the TechWomen|TechGirls initiative of NH Tech Alliance.
Psychology of Social Engineering: The "Softer" Side of Cybercrime
This month we dive into a very important and currently hot topic. Our speaker, Diana Kelley, will cover these areas and more:
The psychology behind Cialdini's 6 Principles of Persuasion
Understanding how attackers leverage these principles to get people to click on phishing links and other malware
Steps for building out effective, repeatable user awareness programs
Tips and recommendations that leverage the power of influence and persuasion for good to help keep you and your organization safe
About The Speaker
Diana Kelley's security career spans over 30 years. She is Co-Founder and CTO of SecurityCurve and donates much of her time to volunteer work in the cybersecurity community, including serving on the ACM Ethics & Plagiarism Committee, as CTO and Board member at Sightline Security, Board member and Inclusion Working Group champion at WiCyS, Cybersecurity Committee Advisor at CompTIA, Advisory Council, Bartlett College of Science and Mathematics, Bridgewater State University, and RSAC US Program Committee. Diana produces the #MyCyberWhy series and is the host of BrightTALK's The Security Balancing Act. Diana is also a Principal Consulting Analyst at TechVision Research and a member of The Analyst Syndicate. She was the Cybersecurity Field CTO for Microsoft, Global Executive Security Advisor at IBM Security, GM at Symantec, VP at Burton Group (now Gartner), and a Manager at KPMG. She is a sought after keynote speaker, the co-author of the books Practical Cybersecurity Architecture (pub 11/20) and Cryptographic Libraries for Developers, has been a lecturer at Boston College's Masters program in cybersecurity, the EWF 2020 Executive of the Year, and one of Cybersecurity Ventures 100 Fascinating Females Fighting Cybercrime.