Event Categories
Have an event to suggest? Let us know.
Click To Filter or View All Events
Want these events automatically pulled into your own personal calendar?
Copy this link and import to your calendar of choice.
https://nhtechalliance.org/calendar/?ical=1

UNH Aerospace Science and Manufacturing Sandpit
June 9, 2021 @ 9:00 am

-

June 10, 2021 @ 12:00 pm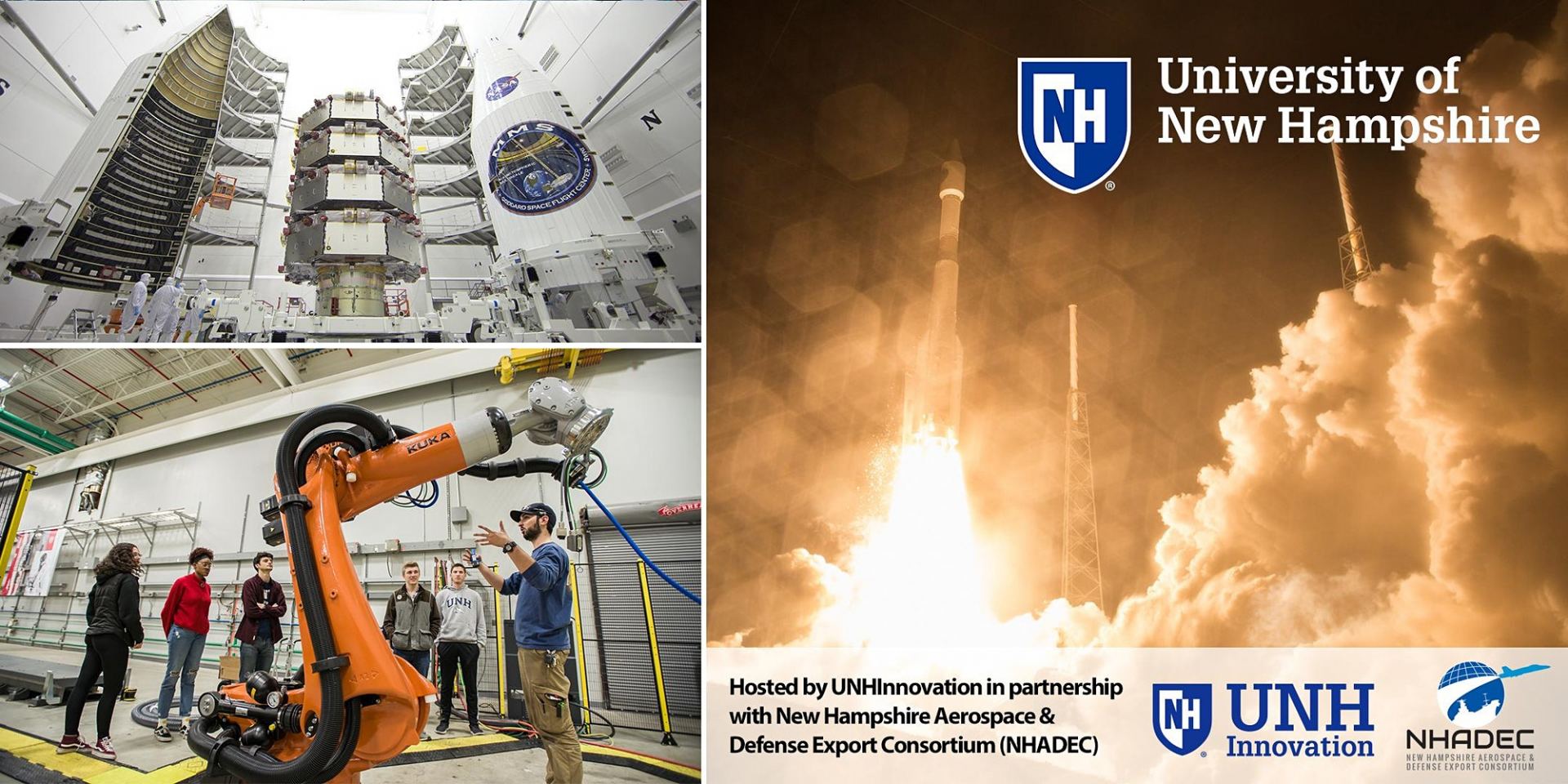 Join us for an interactive 2-day event to learn more about Aerospace Science and Manufacturing research and resources at UNH.
About the Event
The event is designed to provide you with an opportunity to network with UNH researchers who cover a wide range of expertise, including:
Space sciences
Autonomous vehicles and drones
Advanced materials
Materials modeling and development
Sensors and actuators
Advanced manufacturing
Fluid flow and aerodynamics
Sustainability in aerospace science and manufacturing
and more.
Learn about additional UNH resources and facilities, including:
Space Science Center (SSC)
John Olson Center For Advanced Manufacturing
The Center for Coastal and Ocean Mapping/Joint Hydrographic Center (CCOM/JHC)
Center for Acoustic Research and Education (CARE)
University Instrumentation Center (UIC)
The goal for these industry-focused events is to create opportunities for new partnerships between the university and the business community to encourage economic development.
*Attend one or both of these exciting days*
Day 1 – Learn and Network
June 9, 2021 – 9:00 AM – 11:30 AM
Join us on Day 1 for introductions to research and resources at UNH. After some short introductory presentations, participants will be able to move around the virtual room to network with other attendees, learn more from the presenters, discuss pressing challenges with experts and colleagues, and talk about potential collaborations and partnerships.
Day 2 – Collaborative Sandpit
June 10, 2021 – 9:00 AM – 12:00 PM
Join us on Day 2 for an aerospace science and manufacturing collaborative sandpit. During this event, you will hear from experts in the field about some pressing challenges in aerospace science and manufacturing and then work in interdisciplinary teams to develop potential solutions to those challenges. Throughout the sandpit, trained facilitators will help teams to focus the discussion and guide groups through the ideation process to explore solutions.
The goal of this collaborative sandpit is to help attendees meet researchers and other professionals in this field, forge new partnerships, explore collaborations, and generate ideas for potential future projects.
Why UNH?
The University of New Hampshire is one of only 13 land, sea, and space-grant institutions in the United States. UNH is designated as an R1 research institution and has significant expertise and resources related to the aerospace and manufacturing fields. For over 60 years, the university has worked with NASA on numerous missions and was recently awarded a $108 million NASA contract to develop instrumentation for a new satellite that will study coastal areas (the second largest contract NASA has awarded to a university in the last decade). UNH is also home to the John Olson Advanced Manufacturing Center which is focused on advanced manufacturing education, research, and innovation.
Questions? Contact: UNH.industryday@unh.edu
This event is hosted by UNHInnovation in partnership with New Hampshire Aerospace & Defense Export Consortium (NHADEC)