Five Products Named Finalists for NH Tech Alliance's 17th Annual Product of the Year Award Competition 
Registration is now open for Product of the Year Award event on December 6, 2023
Manchester, NH, October 30, 2023 –
Five New Hampshire companies have been named finalists for the 2023 NH Tech Alliance's Product of the Year (POY) Award competition. 
Congratulations to Allegro Microsystems, Geophysical Survey Systems, Pristine Surgical, Rogue Space Systems, SportsVisio. A description of their products can be found below.
These five companies were selected by a panel of judges and will compete for the 2023 POY honors  at a virtual event on Wednesday, December 6th from 3:00 – 4:00pm. The event will be streamed live on the NH Tech Alliance's YouTube channel and there will be an in person watch party and networking event from 2:30-5:30pm at Tupelo Music Hall
The Product of the Year competition will include a live seven-minute pitch and a real-time selection of this year's top product.  POY celebrates the innovative products developed within the past twelve months and provides a platform for entrepreneurs and inventors to receive free advice, major product promotion and podium time in front of thousands of viewers.  In 2022, the live stream reached a global audience of more than 3,000 viewers.
Finalists are: 
The Allegro MicroSystems AHV85110: High Voltage, Self-Powered Isolated Gate Driver for Vehicle Electrification and Clean Energy Systems will be presented by Vijay Mangtani, Vice President and General Manager for High Voltage Power Products.

The AHV85110, creates a simple, single-package solution that drives Gallium Nitride (GaN) Power Switches with up to a 50% smaller size and a 40% efficiency improvement compared to competitor offerings.  This innovative solution allows power system designers in automotive and

industrial applications to generate, store and use energy more efficiently leading to reduction in design time, end product size and weight plus a decrease in overall system cost.

Summit™, from Pristine Surgical, is the world's first 4K ultra high-definition single-use surgical arthroscope. Summit helps ambulatory surgical centers make minimally-invasive surgery more efficient, consistent, and safe. It is a brand new, 100% sterile scope for every patient, ready to use right out of the box—eliminating the time-consuming 35-step operating room setup and teardown process. Summit comes pre-installed with Pristine Connect™ software for seamless cloud-connected surgical image and video storage and automated inventory management. It is delivered via a scopes-by-subscription business model and transparent pricing that makes this breakthrough medical device cost-effective and impactful for surgery centers. The Summit™ will be presented by Dave Carey, Chief Commercial Officer at Pristine Surgical. 

Barry-1 is an in-space demonstrator for Rogue Space Systems' autonomous AI robots that provide space sustainability services. Barry-1 is designed to test Rogue's novel Scalable Compute Platform (SCP) and its ability to aggregate data from multiple sensors and process that data in real time. Barry-1 will be presented by Co-Founder and CEO, Jeromy Grimmett. 

The Flex NX, designed by Nashua based Geophysical Survey Systems, Inc (GSSI), is a state of the art GPR concrete scanning system to simplify the way building structural safety is tested. Get the full picture and tackle any jobsite challenge with the flexibility of Flex NX and NX satellite antennas.  The Flex NX will be presented by Matt Harris, Director of Product Design. 

SV Hoops is Sportsvisio's Artificial Intelligence platform to automatically create stats, highlights and analytics for basketball games. Players can easily share clips, coaches and recruiters gain insight into player/team performance and fans/parents can celebrate their favorite players. AI Hoops will be presented by CEO Jason Syversen
"The Product of the Year competition always brings out the best innovations in New Hampshire and each year the entries push the envelope for what is possible." said Julie Demers, executive director of the NH Tech Alliance. "We are proud to show thousands of viewers across the US and around the world what innovators in New Hampshire are creating." 
Past award winners include the TU3 from Mikros, Breast Cancer Locator from Cairn Surgical, SpotOn Virtual Smart Fence by OnPoint Systems, Measured Air Performance, iCAD, Inc., Wilcox Industries, Plexxi, Prosenex, Single Digits, Nanocomp Technologies, UltraVision, InsightTech Gear, Holase Incorporated, Sky-Skan, Foss Manufacturing and Therma-HEXX. 
Register for the event to receive the latest updates about the virtual event and networking opportunities.
Major sponsors of this year's POY event are:
Sheehan Phinney, Harvard Pilgrim Health Care, Wipfli, Cross Insurance, M&T Bank, Hypertherm, Alexander Technologies, ARMI, Intact Insurance, Pivot Creative, Sunrise Labs, Union Leader, Berry Dunn, Cirtronics, CGI Business Solutions and Primary Bank. Our media partner is NH Business Review.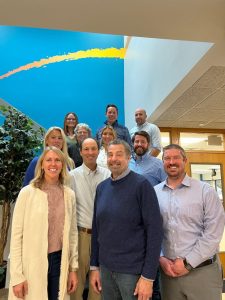 From top left: Amanda Andrews, NHBR (Judge), Tom Daly, Big Network (Judge), Jeremy Stanizzi NH Business Finance Authority (Judge). 2nd Row from the top, Dee Cleary, Sunrise Labs (Committee), Megan Lustig, Alexander Technology Group (Committee), Adam Rogers, First Light (Committee), 3rd row from the top, Christina Ladue, Primary Bank (Committee), Adam Jacobs, Sunrise Labs (Judge). Front Row: Lisa King, Cross Insurance (Committee Chair), Peter Antoinette, Xibus Systems (Judge), Ryan Warren. Berry Dunn (Committee)