Frances Craig of Unanet to discuss her professional career, advice and plans for moving forward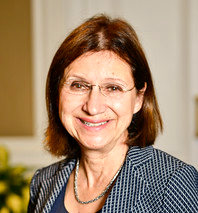 CEO and Chair of Unanet, Frances (Fran) Craig headlines the New Hampshire High Tech Council's (Council) TechWomen Power Breakfast on Wednesday, August 8. Craig's presentation, "Entrepreneurial Journey of an Early Science Grad," tells her story of the path she took to start and build her own company, her lessons and failures along the way and her plans for the future. The August breakfast is from 7:30 to 9 am at the Portsmouth Country Club, 80 Country Club Lane in Greenland.
"Fran's years of success as a female entrepreneur make her a power player in the world of business," said Melissa Jurkoic, chair of the TechWomen Power Breakfast Committee. "Having seen numerous company iterations and grown and proven her company to be trusted by over 1,100 professional services organizations, her knowledge and expertise is based on years of experience in information technology and software development. All of us, regardless of field or job title, can learn a lot from Fran and what she has learned over the course of her career."
Craig's career is marked by the design and creation of the original concept of the web-based time sheet in 1997. In 1998, she founded and established Unanet as a leading vendor of web-based Professional Services Automation software. Unanet is a reengineered version of her first company, Computer Strategies, a professional services organization founded to set a higher standard for meeting and exceeding customer needs. Craig's additional experience includes leading IT organizations for Carnegie Mellon University and GTE Telenet, as well as being responsible for leading the design and development of the first worldwide tracing and tracking system used by DHL Courier. Her passion is in enriching business performance through affordable and easily accessible software. She has served on numerous boards, including the Small Emerging Contractor Advisory Forum Board, and has won several awards, including being one of 2016's SmartCEO Brava winners. She mentors and speaks on the topics of entrepreneurship, women in business, starting and operating small businesses, project management effectiveness and the benefits of business management software. Craig received her Bachelor of Science in Mathematics, Physics and Chemistry from Saint Mary's College at Notre Dame in Indiana.
The August TechWomen Power Breakfast is sponsored by Amadeus Hospitality. Tickets to the Power Breakfast are $10 for Council members and $20 for not-yet-members, and include breakfast. Tickets are available here, or by calling 603.935.8951. Seating is limited, so individuals are encouraged to register early.
THANK YOU TO OUR SPONSOR