Event Categories
Have an event to suggest? Let us know.
Click To Filter or View All Events
Want these events automatically pulled into your own personal calendar?
Copy this link and import to your calendar of choice.
https://nhtechalliance.org/calendar/?ical=1

2021 Fall Meeting in the Millyard
October 5, 2021 @ 8:00 am

-

October 7, 2021 @ 6:00 pm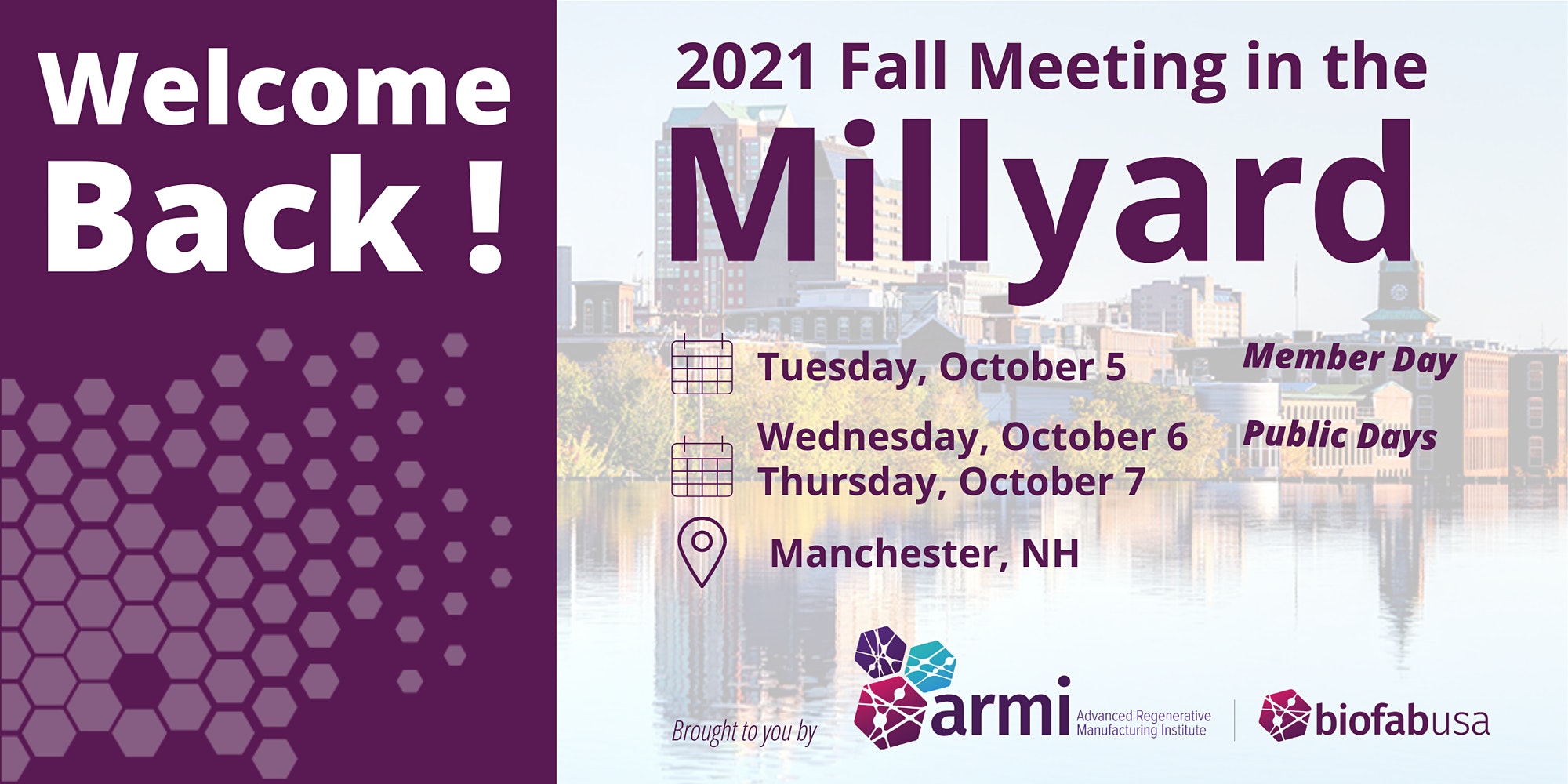 Explore new ways of thinking about regulatory, technology, commercialization and manufacturing.
Defining a New Paradigm in BioCommercialization – Fall Meeting in the Millyard is back in person! Members are invited on Tuesday, October 5 and both members and non-members are invited to join on Wednesday, October 6 – Thursday, October 7, 2021 at the Manchester, NH BioFab Campus. Stay tuned for more information including an inspiring lineup of speakers. The Meeting in the Millyard will bring together leaders in industrial automation, big data, cell biology, regenerative medicine, commercialization, reimbursement, regulatory and countless other fields. Here discovery, innovation and progress will converge.
Register now to:
Hear firsthand from other frontline leaders
Get industry-specific insights
Learn from ARMI | BioFabUSA leaders about what's in store in the coming year
Participate in tours of the BioFabUSA Tissue Foundries, Deep Tissue Characterization Center and Process Development Labs.
Network with other industry subject matter experts
There are additional discounts available for members of ARMI | BioFabUSA. Please reach out to your Membership Support Manager, astevenso@armiusa.org or jmatthews@armiusa.org, for a member only promotional code.
Why Exhibit at the Meeting in the Millyard?
Meet your existing customers and potential clients
Increase awareness about your company's/organization's brand
Launch and promote new and existing products and services
Network with current ARMI | BioFabUSA members for collaborative projects.
Exhibit Dates: Wednesday, October 6 – Thursday, October 7 (during all scheduled breaks)
Why Sponsor at the Meeting in the Millyard?
ARMI | BioFabUSA's Fall Meeting in the Millyard provides opportunities to reach industry experts, leaders in the government sector, and world-renowned academic scientists who will be coming together to drive impactful advanced manufacturing research and development for TEMPs.
Audience
ARMI | BioFabUSA's live events attract 250-300 registrants. We expect 2021 attendance to match – if not exceed – previous years. Attendees include members of industry, academia, non-profits, and government.
Click here to learn more about exhibit and sponsorship opportunities
Refund Policy
Registration can be transferred to another person if requested in writing by e-mail to kmorelli@armiusa.org by the original registrant.
If canceled up to four weeks before the event, 100% of the registration fee will be refunded.
If canceled between four and two weeks before the event, 50% of the registration fee will be refunded.
No refund is given if canceled within two weeks of the event.