Event Categories
Have an event to suggest? Let us know.
Click To Filter or View All Events
Want these events automatically pulled into your own personal calendar?
Copy this link and import to your calendar of choice.
https://nhtechalliance.org/calendar/?ical=1

TechEconomy in 2021
February 2, 2021 @ 11:00 am

-

12:30 pm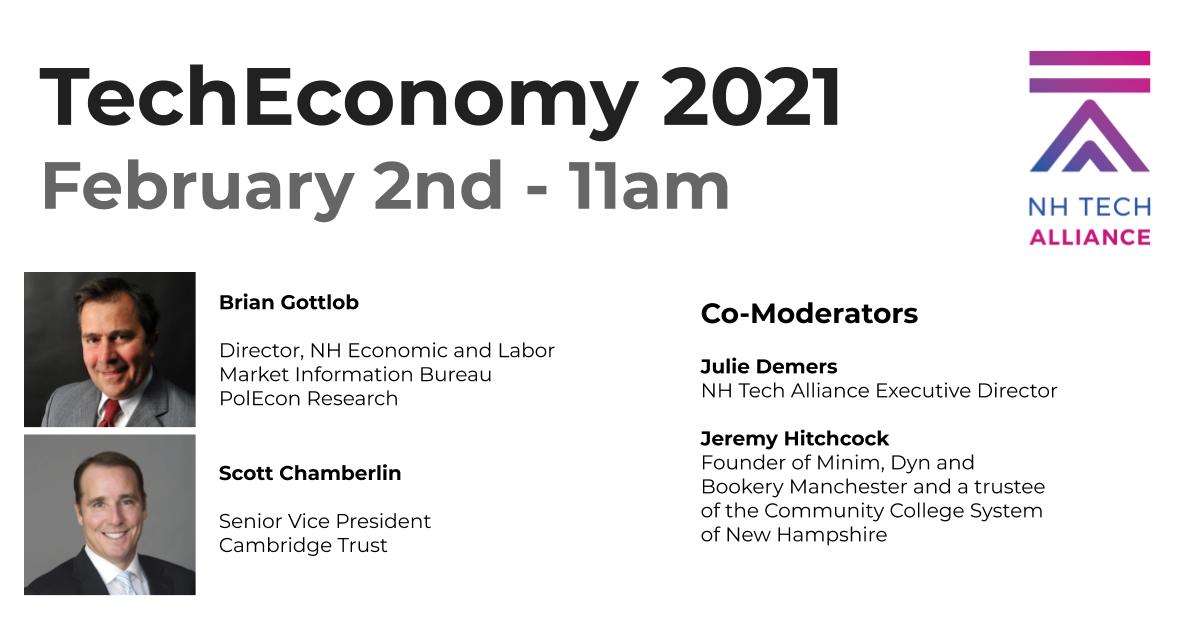 Join the NH Tech Alliance for a vibrant discussion and analysis of what the new year has in store for New Hampshire's tech economy.
Co-Moderators
Julie Demers, NH Tech Alliance Executive Director
Jeremy Hitchcock, founder of Minim, Dyn and Bookery Manchester and a trustee of the Community College System of New Hampshire.
Panelists
Brian Gottlob
Director, NH Economic and Labor Market Information Bureau
PolEcon Research
PolEcon specializes in identifying, understanding and communicating emerging economic, demographic, energy, fiscal, labor market, real estate, and public policy trends at the intersection of private sector activity and government policy, where public sector action or inaction can significantly impact the growth, development, and profitability of individual businesses, industries, not-for-profit organizations, and geographic regions.
Scott Chamberlin
Scott has 20 years' experience working with emerging growth companies in New England and Silicon Valley. He has served as Senior Vice President at Gibraltar Technology Finance, Senior Vice President at Bridge Bank and Vice President at Silicon Valley Bank. Scott presently serves as Senior Vice President at Cambridge trust leading the Innovation Banking group. At Cambridge Trust he is focused on serving the needs of the New England based tech/life sciences community.