INTRODUCING THE NH TECH ALLIANCE RETIREMENT PLAN
As a member of the New Hampshire Tech Alliance (Alliance), you have a unique opportunity to join in this new offering – the Alliance 401k Multiple Employer Plan. Through this plan, your company can gain access to a large-scale national plan, save money, reduce your fiduciary liability and spend less time on administrative tasks.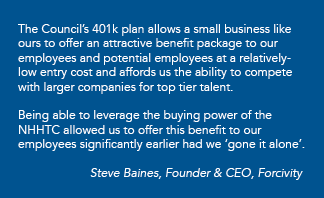 The Alliance Retirement Plan includes the following member benefits:
No annual audit
Cost savings on the investments
No individual Form 5500 reporting
Minimal plan maintenance
Flexible plan features, including Safe Harbor, Roth and profit sharing
Customizable 401(k) plan design options involving eligibility, matches, vesting schedules and more
Reduced fiduciary responsibilities
How?
The Alliance Retirement Plan is a Multiple Employer Plan (MEP). From the federal government reporting standpoint, it is treated like one large plan. The end result for your company is a retirement plan with competitive investments, outstanding service and having a professional third party entity address the fiduciary responsibilities of the day-to-day operations of the plan.
Strength in Numbers
When you utilize the Alliance Retirement Plan, you have all the advantages and flexibility of a stand-alone plan sponsor, but avoid the expenses, fiduciary liabilities and administrative headaches of managing it yourself.
Let us handle the paperwork for you
By participating in the Alliance Retirement Plan, virtually all administrative tasks can be offloaded from you to Slavic401(k) and UBS Financial Services, Inc.
Tasks that can be shifted may include:
Administrative responsibilities
Employee eligibility tracking
Distribution Processing Plan compliance
Non-discrimination testing
Annual reporting
Participant education/enrollment
The result is more time for you to focus on running your business!
FOR FURTHER INFORMATION:
Please contact Thomas Berry, the New Hampshire UBS contact for the Alliance Retirement Plan
Thomas H. Berry, CFP, CRPC
Wealth Advisor
UBS Financial Services, Inc.
10 Park Street Concord, NH 03301
603.226.1125  |  thomas.berry@ubs.com
For additional information download this flyer.
Watch this helpful video: