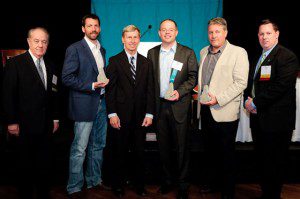 Jeffrey Sercel, founder of JPSA was selected as the 2011 Entrepreneur of the Year by the NH High Tech Council.  The announcement came during the 2011 EOY Awards Dinner, held on May 9th.
Sercel was recognized for his work with JPSA, which he founded in 1994.  Based out of Manchester, the company grew from 60 to 120 employees between 2009 and 2010 and is a leading supplier of industrial grade UV excimer, DPSS, and ultrafast laser micromachining systems and services to customers worldwide. Applications include LED, solar, semiconductor, research, and biomedical markets to name a few.
He is one of only two, two-time winners of the EOY award, having been recognized as the 1994 Entrepreneur of the Year in connection with his work for Resonetics, Inc.
Bill Warner, super-angel investor, serial entrepreneur, and founder of Avid Technology, Inc. and Wildfire Communications, was the keynote speaker. At the event, Governor John Lynch joined the NHHTC in recognizing Bill Rogers, CEO of Ektron, and Erik Dodier, co-founder of PixelMEDIA, as finalists for the2011 EOY award.
Past Winners
1988
Dean Kamen, DEKA R&D Corp.
James A. Crawford, Jr., Techniweave, Inc.
S. Robert Levine, Cabletron Systems, Inc.
Dr. Ronald Moskowitz, Ferrofluidics Corp.
1989
Dr. Hans D. Baumann, H.D. Baumann Assoc., Ltd.
Robert H. Rines*, Franklin Pierce Law Center
Merle L. Thorpe, Hobart Tafa Technologies, Inc.
Royden C. Sanders Jr.*, Sanders Associates
1991
Richard R. Roelke, Metronics, Inc.
Christopher J. Oliver, Cabletron Systems, Inc.
William E. Fletcher, Termiflex Corp.
Robert C. McCray*, Valvcon Corp.
1992
Charles M. Hebble, Jr., Allen-Bradley Corporation
Michael H. Foster, Walker Power, Inc.
Richard E. Morley*, Flavors Technology, Inc.
1993
Richard W. Couch, Jr., Hypertherm, Inc.
William E. Wetzel, Jr.*, Center for Venture Research–UNH
1994
Joseph A. Roberts, Jr., Advanced Circuit Technology, Inc.
Jeffrey P. Sercel, Resonetics, Inc.
1995
David C. Arnold, Softdesk, Inc.
Raymond R. Boissoneau, Electropac Co., Inc.
1996
Donald W. Comstock, DiaCom Corporation
Daniel M. McGurl, Bottomline Technologies, Inc.
John H. Morison*, Hitchiner Manufacturing Co.
1997
Robert W. Horgan, NewMarket Software, Inc.
David Putnam*, Markem Corporation
1998
Dr. Kedar P. Gupta, GT Equipment Technologies, Inc.
Hong Yu, Lancast, Inc.
Dr. Robert C. Dean, Jr.*, Synergy Innovations, Inc.
1999
Daniel P. Taylor, The Taylor Group
Ted Jastrzembski, Tally Systems Corp.
2000
Jay Borden, Granite Systems, Inc.
William Wentworth. Source Electronics Corporation
2001
Rajesh M. Nair, degreeC
David J. Gagnon, degreeC
Michael J. Gerling, Geographic Data Technology, Inc.
Morton E. Goulder*, M.E. Goulder Enterprises, Inc.
2002
Melissa L. Mabon, Pragmatech Software, Inc.
Brooke M. Savage. Pragmatech Software, Inc.
Robert Scott, Octave Communications, Inc.
Eugene Scribner**, C.I.M. Industries, Inc.
2003
Patricia Gallup, PC Connection, Inc.
David W. Hargreaves, DTC Communications, Inc.
Ronald R. Young, DTC Communications, Inc.
Matthew W. Pierson, DTC Communications, Inc.
2004
Edward Schmid, eCopy, Inc.
2005
Alex Bakman, Ecora Software Corporation
Stephen Boucher, Airmar Technology Corporation
2006
George Kassas, Cedar Point Communications, Inc.
Kenneth Solinsky, Insight Technology, Inc.
2007
Charles Hutchinson, GlycoFi, Inc.
Tillman Gerngross, GlycoFi, Inc.
Joseph Mullen, Bottomline Technologies, Inc.
2008
Paula Long, EqualLogic
Peter Hayden, EqualLogic
Paul Koning, EqualLogic
2009
Charles E. Moran, SkillSoft
Jerry Nine, SkillSoft
Mark Townsend, SkillSoft
Tom McDonald, SkillSoft
2010
Bill Larkins, Active Shock, Inc.
John LaPlante, Active Shock, Inc.
Tillman Gerngross, Adimab, Inc.
Dane Wittrup, Adimab, Inc.
Errik Anderson, Adimab, Inc.
* Lifetime Achievement Award
** Founders Awards