uConnect wins $50,000 prize at third annual competition!
gemr and ApplyKit take 2nd and 3rd place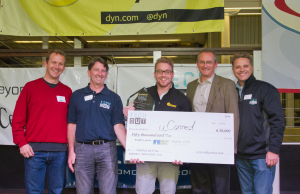 "We are honored and excited to be a part of the TechOut competition and to come out on top, said uConnect founder David Kozhuk. "The other companies and entrepreneurs were tremendous and we're all looking forward to playing a role in the growing start-up and technology industry in New Hampshire."
Five finalist companies competed for $100,000 in prize money by pitching their company via five-minute presentations to a live audience of more than 300 people during the event. A panel of judges awarded the top two prizes, with a third prize of $20,000 chosen by the audience via live text voting.
uConnect, based in Manchester and Boston, aligns entry-level recruiting with higher education to help improve career education, preparation and outcomes for college students and recent graduates. The company creates custom web and mobile applications for college and university career centers but are designed to get students excited about the job search process and actively involved in their school's career programming. The company launched with UMass Amherst and Bentley University in the spring of 2013 and has signed several new institutions to their platform including MIT, Boston College and University of Connecticut.
"If we can provide schools with innovative tools and technology to centralize entry-level recruiting under their own umbrella, not only do we believe student outcomes will improve but we will be in a position to share critical employment and recruiting data with our client schools that will help them make sure their students are transitioning into rewarding careers after graduation," Kozhuk said. "The prize money means a lot for a company like ours. We're excited about being able to grow our team and hopefully the recognition will help us network with some of the great higher education institutions in New Hampshire."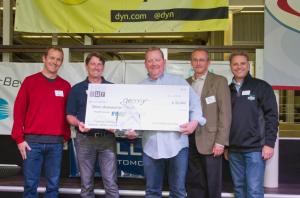 Second-place winner gemr, is an online buying and selling platform as well as an online community for experts and enthusiasts who share a passion for collectibles and antiques. Users post pictures of collectibles to gain knowledge of their history from the company's user base. It connects members and rewards them for contributing appraisals, while curating collections for members' perusal. gemr is based in Hampton, NH and is currently in beta.
ApplyKit is an online application that manages the college selection and application process with a two-sided platform putting all the moving parts and resources of the college application process in one place in the cloud.
"The quality of the entrepreneurs competing tonight combined with the excitement and enthusiasm around startups in general is a clear indication that TechOut is a huge success," said Matt Cookson, Executive Director of the NH High Tech Council. "Congratulations to the winners, sponsors, and the business community in New Hampshire for nurturing the next wave of innovative companies."
Links to videos: