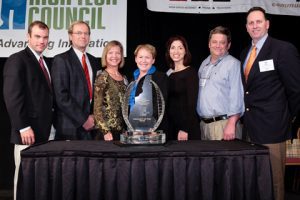 Foss Manufacturing wins with bacteria blocking surgical respirator mask
Bacteria beware – a new innovation from a New Hampshire company offers nearly a 100% solution for blocking bacteria from the body!  Foss Manufacturing's new surgical mask won top honors as the New Hampshire High Technology Council's 2011 Product of the Year (POY).
Foss, a Hampton-based company that produces engineered, non-woven fabrics and specialty syntheticfibers won the 2011 POY award for the SpectraShield 9500 N95 Surgical Respirator Mask. The mask, which features Foss' revolutionary Fosshield embedded antimicrobial technology, eliminates 99.99% of bacteria on the treated surface within one hour and certain strains of harmful bacteria on contact before they can enter the body.
At the 6th annual event held on November 14th, a large audience that included Governor John Lynch was on hand as the NHHTC honored the top five companies competing for the POY award with Judges Awards.  Those five finalists were selected by the judges from a larger pool of candidates in October.  The five displayed their products during a reception before the evening event, and then made seven-minute pitches as part of their effort to encourage the audience to vote for their product.  The popular vote and previous judging by a panel of business and technology experts were equally weighed, and Foss Manufacturing took top honors for 2011.
Bill Hurst, VP of Business Development at Foss, said he was excited to present the SpectraShield at the POY banquet because, "it provides a unique opportunity to highlight this key breakthrough technology that has a distinct benefit for society."  Speaking about the SpectraShield Mask and Fosshield technology, Hurst said Foss' focus is, "to not only provide but extend this technology for everyday use for us, our family members, in our clothing, when we travel – there is such a broad range of applications."
The four other 2011 finalists and Judge's Award winners were iGlobe, Franklin; Integra, Hudson; Russound, Newmarket; and Scribe, Manchester.
The winner earned the prestigious NHHTC Product of the Year crystal trophy, which was designed by Pepi Herrmann. The Foss Manufacturing name will be added to the trophy, and the trophy and an exhibit of the winning product will be on display and the Manchester-Boston Regional Airport for one year.