Dynamic Neuroscreening Device (DND) by Prosenex named 2014 Product of the Year
Each year the Council honors outstanding innovations by New Hampshire's tech companies. This annual event was introduced in 2006 and has become very popular because of its fast-paced and engaging format.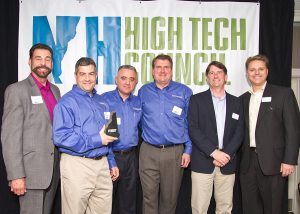 At the ninth annual POY event, more than 200 people, including New Hampshire Governor Maggie Hassan, were on hand as the Council honored the top five companies competing for Product of the Year award.  Those five finalists were selected by the judges from a larger pool of candidates in October. Finalists previewed their products during a reception before the event, and then made seven-minute presentations as part of their effort to encourage the audience to vote for their product.  The popular vote and previous judging by a panel of business and technology experts were equally weighed, and Prosenex took top honors for 2014.  The four other 2014 finalists and Judge's Award winners were Akumina Interchange by Akumina, E.S.P. Smoke Detection by Valor Fire Safety, Riddell InSite Impact Response System by Simbex and RuleGate® by Centripetal Networks, Inc. (CNI).
Past POY Winners:
2014 — Prosenex, Dynamic Neuroscreening Device (DND)
2013 — Single Digits, Inc., Open Network Exchange
2012 — Therma-HEXX, ThermaPAVER® and  ThermaCEILINGTM
2011 — Foss Manufacturing, SpectraShieldTM 9500 Surgical Mask
2010 — Sky-Skan, Definiti 3D 8K
2009 — Holase, Incorporated, UPTMSTM (Ultra Portable Traffic Management System)
2008 — Insight Tech Gear, MTMv2-LCD
2007 — UltraVision, UltraSensor®
2006 — Nanocomp Technologies, Nano Yarn/Nano Felt