Startup Shindig
Celebrating Entrepreneurship
This annual event celebrates entrepreneurship in New Hampshire with a night of networking and startup pitches from the Accelerate NH cohort. 
About
This event is great for anyone who is currently involved with or wants to be a part of the startup ecosystem in New Hampshire. There is also added excitement in finding out which of the participating startups will receive investments from the Millworks Fund II. The past three years there have been investments totaling $300,00 each year! (Accelerate NH participants have the opportunity to pitch for potential investment through Millworks Fund II, but it is not a requirement to participate in Accelerate NH).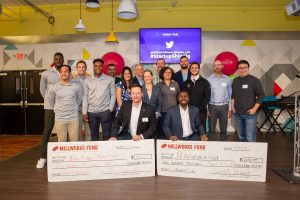 Startup Shindig 2019
This event was held on May 30th at the Oracle + Dyn office in Manchester. 
See the 2019 event photos.