TendoNova Corporation Takes Home $150,000 at 2018 TechOut Competition
$300,000 in investments awarded: VentriFlo to receive $100,000 and Cyborg will get $50,000
Three New Hampshire tech startup companies were selected as winners at the seventh annual TechOut competition on Thursday, November 15. The three winners of the New Hampshire Tech Alliance's (Alliance and formerly the New Hampshire High Tech Council) startup competition were awarded a total of $300,000 in investment capital. TendoNova Corporation took home the first place honor and $150,000, VentriFlo took home second place and $100,000 and Cyborg took home the third place prize of $50,000.
The event featured five finalists presenting before a live audience of over 250 people, followed by the winners announcement. The winners were determined by a distinguished panel of judges comprised of business experts, entrepreneurs and venture capitalists.
"TechOut is a highly-anticipated event for many small business owners and entrepreneurs in New Hampshire," said Gary Sloper, co-chair of the TechOut Committee and board member of the Alliance. "The quality of the presentations was very high and the 2018 field was exceptionally deep and strong. As a result, the judges decided to make three awards this year. Congratulations to TendoNova, VentriFlo and Cyborg for their taking the top honors. We look forward to hearing about their future successes and continuing to support them along the way."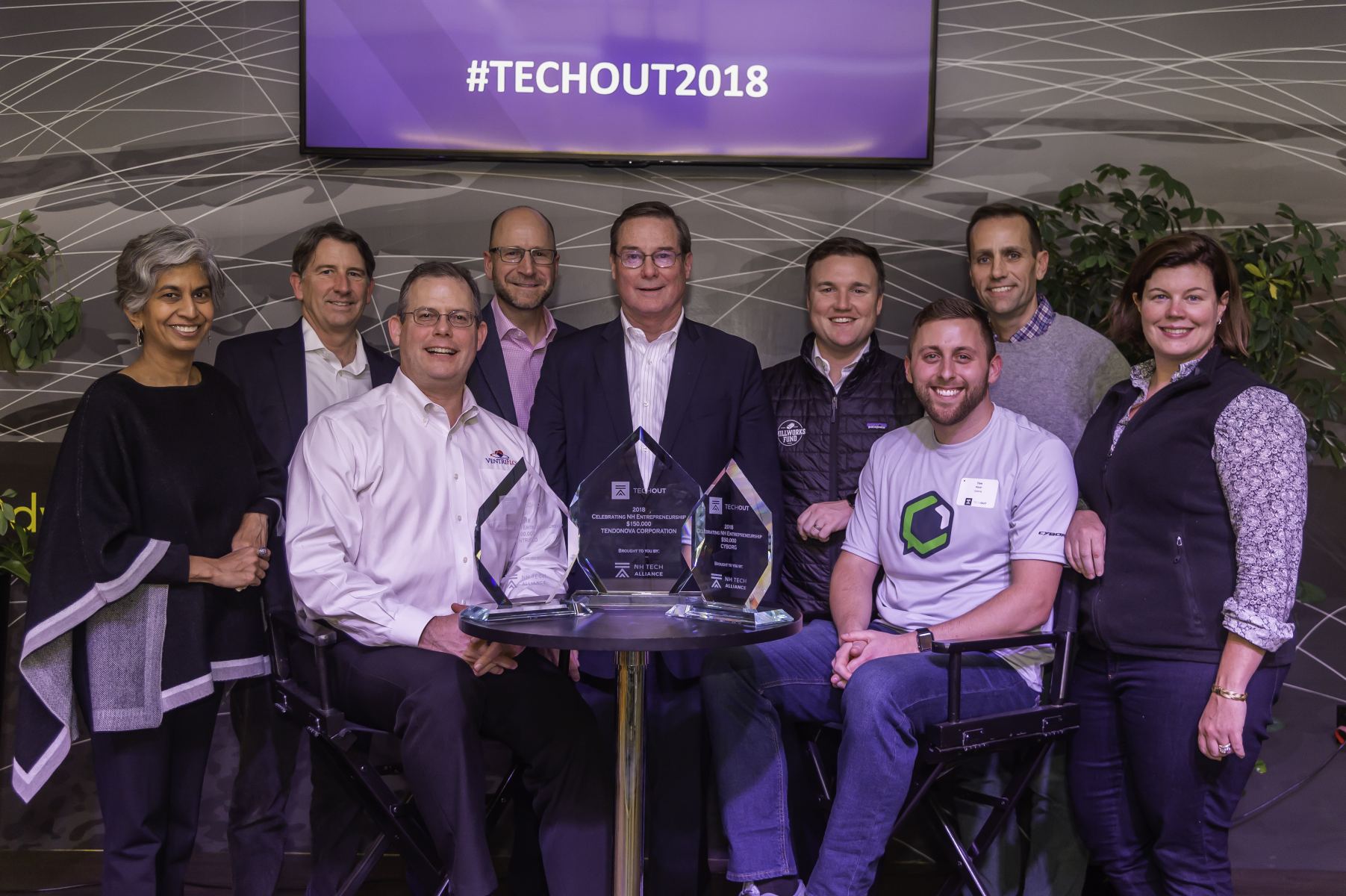 A group of NH Tech Alliance board members and investors from the Mill Works Fund Series II gather with the winning recipients at the November 15 TechOut 2018 competition. From left to right: Toral Cowieson of the Internet Society and NH Tech Alliance chairwoman; Matt Cookson, executive director of the NH Tech Alliance and president of Cookson Strategic Communications; Doug Vincent, president and CEO of VentriFlo and second-place prize recipient; Peter Lachance, partner at Altair Group and NH Tech Alliance board member; Roy Wallen, CEO of TendoNova Corporation and first-place prize recipient; Gray Chynoweth of the Mill Works Fund Series II; Tim Near, founder and CEO of Cyborg and third-place prize recipient; Gary Sloper, head of global sales engineering and customer success at Oracle + Dyn and NH Tech Alliance board member; Elizabeth Hitchcock of the Mill Works Fund Series II.
TendoNova Corporation was formed in 2017 to provide advanced tools for office-based orthopedic procedures. The company's first product, the Ocelot™ system, promises improved clinical outcomes, decreased cost of care, improved patient experience and improved physician experience. Its elements are a hand-held device with a single-use disposable component, supported by tools for data feedback to physicians during the procedure and data analytics to assess procedure effectiveness.
"On behalf of the team at TendoNova, I want to say thank you," said Roy Wallen, the company's CEO. "This is an incredible honor and we are so grateful for the opportunity to participate in this event and to collaborate and compete with such amazing individuals and the companies they are building. We have worked hard doing what we do, and this is a strong validation of that work. We have confidence that we will disrupt the industry and make clinicians' more effective and patients' lives healthier. Thank you for this opportunity, thank you to all those involved in this process and thank you for your support."
VentriFlo is the first and only blood pump capable of delivering a life-like pulse to patients undergoing open heart surgery. All of the human body's biology is based upon pulsatile flow, yet the 500,000 patients per year who require heart surgery have only one option today: standard, continuous flow pumps. Today's standard pumps fail to maintain normal exchange of oxygen, nutrients and waste in the smallest blood vessels deep within the body, leading to injury of the kidneys, brain, lungs and gut. By drastically reducing these complications at the source, VentriFlo will command a substantial premium over standard continuous flow pumps and can expand the market size for blood pumps from $300m annually to over $1.5 billion.
"Simply fantastic. What a great night and well-organized event," said Doug Vincent, president and CEO of VentriFlo. "We are thrilled to have been a finalist, and now, with this further recognition – including this $100,00 investment – we are in an even stronger position to realize our vision to change the world of open-heart surgery. Given the vibrancy of the NH startup ecosystem, we are incredibly proud to have been so honored, especially among this year's terrific competition. This win represents the first portion of our critical First-in-Human funding and highlights the tremendous support and commitment of NH's business leaders and organizations to helping local startups achieve real success. Thank you."
Cyborg was founded in 2017 and is focused on developing the future of fitness technology, starting with a gamified app. The company's mission is to empower its community with engaging activity experiences that help them achieve and maintain healthy lifestyles. Cyborg is reaching this target by providing a voice-enabled activity assistant within its app. Users can summon help at any point during a workout by saying "Okay Cy." Cy uses a combination of machine learning and AI to understand natural language and enables Cyborg to instruct the user in a way that feels human, developing a unique and tailored personal training experience.
"We are so grateful and humbled to have received this award," said Tim Near, founder and CEO of Cyborg. "We have worked hard to get to where we are, and we are proud of our successes to date. We are incredibly grateful for the startup community in New Hampshire and feel fortunate to be located in a state that encourages entrepreneurs to go after their dreams, and is willing to support them in doing so. Thank you to the New Hampshire Tech Alliance, the TechOut Committee and the Mill Works Fund for their support and providing us with this opportunity."
Aisling Organics and Nolen Ortho were also 2018 TechOut competition finalists and demonstrated and presented their products at the event.
TechOut is open to startups that have been in business for fewer than five years, raised less than $250,000 in funding and have less than $250,000 in revenue. It is funded by the Mill Works Fund II, a partnership among New Hampshire investors and the New Hampshire Business Finance Authority. Past TechOut events have helped 14 winners launch and grow their businesses in the Granite State.
The lead sponsor for this year's competition is Borealis Ventures. Additional sponsors include Brady Sullivan, UBS, Oracle + Dyn, Cook, Little, Rosenblatt and Manson, Consolidated Communications, Dunn Rush, Lavallee Brensinger Architects, Meltwater, Slavic 401k, Clark Insurance, miEdge, Sheehan Phinney, Howe Riley Howe, the Entrepreneurs' Fund of New Hampshire and New Hampshire Business Review.