Chance meeting at Council event sparks an unexpected, fruitful partnership
Sometimes good things come to those who wait. That was certainly the case when Jim Campbell's company, Retrieve, a Manchester-based software company that creates web and mobile communications apps, was a finalist back in 2015 at the Council's annual "Product of the Year" Awards. Retrieve was presenting alongside four other finalist companies who were all vying for top prize – coveted product promotion and visibility among NH's business community and tech elite.
Also competing that November evening was B2W Software, a Portsmouth company that helps heavy construction companies win jobs and complete them more profitably. Construction companies use B2W Software to estimate projects, plan and manage operations, maintain large fleets of equipment and leverage business intelligence.
Ultimately, the award went to a competing company that night and both Retrieve and B2W packed up, shook hands and went their separate ways.
Or so they thought.
Flash forward to almost a year later and B2W was searching for a way to supplement and scale their training capabilities for users who manage estimating, scheduling and other operational tasks in the office, as well as for foremen and equipment mechanics working in the field. Their goal was to add video training content that could be searchable and easily accessible anytime, anywhere and on any device. The project was an important part of B2W's mission to introduce the benefits of innovative software into an "old school" industry in which paper-based processes are often still the norm.
"In our business, specifically around infrastructure construction, we are one of the very last industries to digitize and automate processes using technology," said Rich Humphrey, B2W's vice president of marketing. "Sure, everyone has a mobile device, but they aren't always that tech savvy. Our team had been looking for some time for help in this area and we remembered we had met a company right in our own backyard that has the best technology available today."
Retrieve, who specializes in helping companies scale out their training, had an immediate solution. "We packaged all of B2W's training courses into video content on a web and mobile communication app allowing them to distribute it straight to their end users," said Jim Campbell, Retrieve's product vice president. "The beauty of our technology is that we provide a live video of the actual trainer so instead of relying on in-person training, which is often easily forgotten the moment you walk out of a classroom, it's all available right at the customer's fingertips on their mobile device when they're out in the field."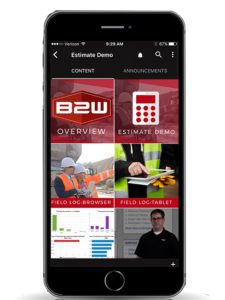 B2W's employee trainers come to Retrieve a few times a week to film their training content in Retrieve's state of the art video suite in Manchester. They shoot a variety of brief video segments covering everything from how to complete a work order, to how to do a repair request. If one of B2W's customers is out on a construction site and needs support with performing a new task they may not remember, they use Retrieve's app to pull up the video they need that shows the actual trainer walking them through the process.
"It's as if we're cloning your trainer," Campbell explains. "Retrieve provides the tools that allow customers to organize their videos, pictures, text and documents into an easily consumable package. It's like having a virtual training manual."
The relationship between the two companies is now about a year old and going strong, with both having recently signed a three-year contract to continue their partnership.
"Retrieve and B2W have a great working relationship and we look forward to the future. The timing for us to meet, and then work together couldn't have been better," adds Campbell.