Event Categories
Have an event to suggest? Let us know.
Click To Filter or View All Events
Want these events automatically pulled into your own personal calendar?
Copy this link and import to your calendar of choice.
https://nhtechalliance.org/calendar/?ical=1

TechWomen Power Breakfast: Kick-ass Confidence for Women
February 10, 2021 @ 7:30 am

-

9:00 am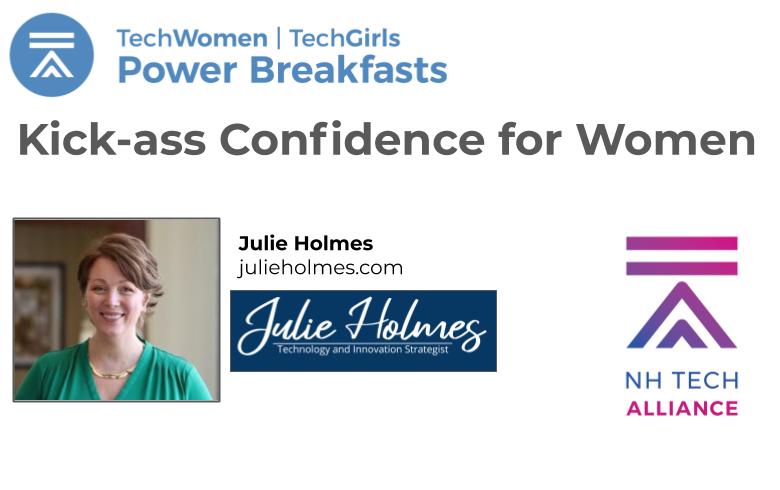 Kick-ass Confidence for Women
"You just need to be more confident."
A phrase that every woman (and man) can agree with but few know how to do.
What does confidence look like? How do we "be more confident" in difficult and complex situations? Is it possible to exude confidence even when we're nervous or uncertain?
The Kick-ass Confidence Workshop answers these questions and dozens more through stories, statistics, practical examples and laughter. Your confidence is your choice and this workshop will show you how to go from knocked down to standing tall in any situation.
Confidence is a combination of how you feel personally about your skills and value and is heavily influenced by how others see and react to you. Whether you are a student interviewing for university or a woman asking for a promotion at work, the goal is to feel that you are in control of your confidence and know how to present yourself effectively personally and professionally.
At the end of this workshop, attendees will:
Understanding their current confidence level
Know the three areas they can adjust to increase their confidence in any situation

The environment: location, preparation & stakes
Their physical presence: body, deportment & appearance
Their mental preparations: knowledge, experience/status & history

For each area, attendees will have specific actions they can take IMMEDIATELY to improve the way they feel and present themselves
While much of the focus for this workshop is around "professionalism", the same concepts can be applied in any situation – from classroom conversations to university interviews; from job interviews to promotions. This is the workshop for girls and women who are ready to kick ass with confidence.
How attendees describe their experience and results:
Empowering
Inspiring
Practical
Entertaining
Life-changing
About Julie Holmes:
Julie Holmes is a 20-year corporate veteran who had worked her way from entry level position to Director of Strategy at a global, enterprise software organization. In addition to her professional expertise, Julie holds Bachelor and Master's degrees in Communication with a strong emphasis on nonverbal skills, presentation and organizational dynamics.
An award-winning speaker and tech strategist, Julie has guided tens of thousands of people in why, when, and how to leverage technology effectively. Her wicked smarts, extreme enthusiasm, and cheeky humor on (and off) stage spur audiences to not only sit up and listen but also to make notes, compare phones and take immediate action.
As the founder/co-founder of two innovation companies, Julie has designed and delivered tech products that are helping businesses grow their brands in over 35 countries.
Sure, she knows tons of cool apps and tech tools that make people and their organizations run faster, smarter, and better – heck, she's even building a whole YouTube channel about that. But, she's also keenly aware of how easy it is to get distracted by shiny new apps so that before you know it, you're buried in icons for apps you don't even recognize. Wouldn't it be great to have just the tools that you need and use along with some clear guidelines to follow for new ones?
From entrepreneurs just getting started to executives of multinational corporations, there's brilliant, innovative tech that can help you achieve your goals. You just have to master when to TECH IT OR LEAVE IT and Julie can show you how.