An Interactive Conference for High School Freshmen and Sophomore Women
Next week, the NH Department of Education will proudly co-sponsor the fourth annual Girls Technology Day, in partnership with the NH Community College System and the New Hampshire High Tech Council.  The events will be held at NHTI, Concord's Community College, University of New Hampshire- Durham Campus and Manchester Community College.  This year's event expanded to three campuses, reflecting the demand for more students to be able to access STEM programming in new locations. This year's capacity is for 800 young women to attend a STEM-spirational event that will expose them to many career and postsecondary opportunities in STEM fields.
The event will focus on freshmen and sophomore students because that is the age when many students begin focusing on interests that ultimately may become career paths.  According to Generation STEM: What Girls Say About Science, Technology, Engineering and Math, a 2012 report by the Girl Scout Research Institute, women account for about only 20% of the bachelor's degrees in engineering, computer science, and physics, and regardless of the specific area of STEM, only about 25% of these positions are held by women.
The Girls Technology Day team is changing this by getting young women interested and invested in the technical fields early in their high school careers.  Keynotes include Jeopardy! Winner Kerry Greene at NHTI Concord's Community College, Georgia Harris of the National Institute of Standards and Technology at UNH, and Hayley LaPointe, WMUR meteorologist at Manchester Community College.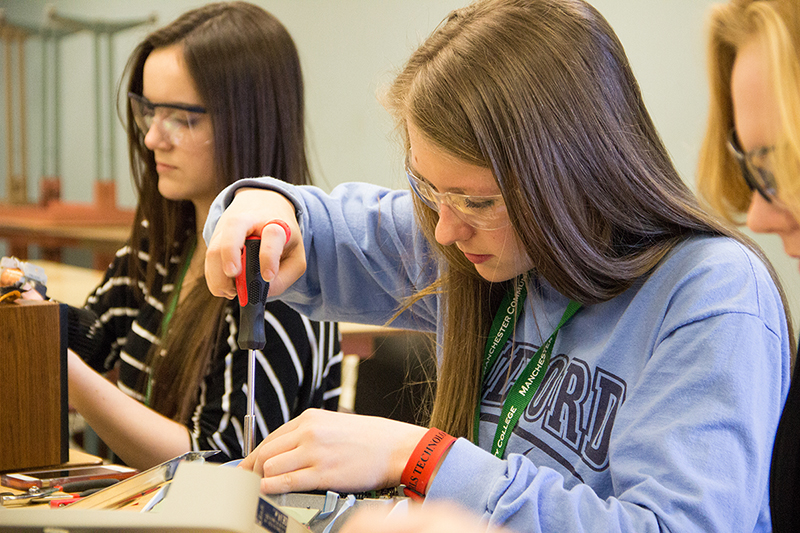 Workshops at this year's events will allow the students to explore diverse topics such as:
3D Modeling
Game Programming
App Development for Mobile Devices
Contaminated Groundwater Remediation– Engineering Solutions
Metrology- The Science of Measurement
Workshops will be led by educators and industry leaders from the local community, including Autodesk, GZA Geoenvironmental, Hinton Technical Services, Albany Engineered Composites, ReVision Energy, and the Portsmouth Naval Shipyard.
During their lunch break, students will also have the opportunity to attend a vendor fair, where they can learn about college options, career opportunities and see more technology at work.
This is an exciting opportunity to invest in the futures of these young women as well as the economic vitality of NH. To learn more about Girls Technology Days 2016, please visit nhgirlstechnologyday.com. If you are interested in becoming an industry partner, please contact Courtney Ritchings (Courtney.Ritchings@doe.nh.gov) or Jennifer Kiley (Jennifer.Kiley@doe.nh.gov).
Three Dates & Locations to Choose From:
Tuesday, March 15 @ NHTI in Concord
Thursday, March 16 @ UNH in Durham
Friday, March 17 @ MCC in Manchester