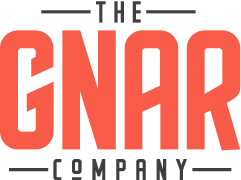 This week's Member Monday is with the Gnar Company. The Gnar Company is a custom software development agency that partners with clients of all sizes to turn their most complex technical challenges into simple, scalable digital experiences. Established in 2015, we have successfully designed, developed, and launched over 100 applications.
These range from foundational apps for startups to enterprise systems for the Fortune 100, and everything in between. Our partners include AARP, The Commonwealth of Massachusetts, Whoop, Grubhub, Mass General Brigham, and many many more.
The Gnar is all about partnership. We're experts in software, and our clients are experts in their respective industries. With that combined knowledge, a shared vision of the end goal, and an optimistic can-do attitude – we build products and relationships that are built to last.
How were you introduced to the NH Tech Alliance and what made you decide to become a part of New Hampshire's tech ecosystem?
With our team now being 100% remote, our team has migrated from Boston to different parts of New England – including New Hampshire. One of our Directors (Michael Maloney) went to UNH, lives on the Seacoast, and was introduced to NHTA via a founder. We're bullish about collaborating with founders who want to be strategic partners, build for the long term, and don't operate in an ivory tower.
We're proud of our reputation for being both hard-working and easy-going, and it really seems like the NHTA is full of partners exactly like that. We're looking for talented teams who want to build exceptional products. So joining the NHTA was a no-brainer for The Gnar and we're excited to meet everyone at some of the upcoming events!
What are some recent accomplishments or milestones for your company?
In the last 12 months we have doubled our size to around 40 total employees, and have kept a continued focus on hiring great people that we love working with every day. We launched a system for The Commonwealth of Massachusetts that conducts background checks on Uber & Lyft drivers in real-time. What used to take up to 8 weeks can now be done in seconds, as the system pulls information from various databases and then funnels that information into a dashboard that allows for quick decision-making.
If you've been in an Uber in MA, you can feel safe knowing that the driver has been screened and approved by our proprietary application. A few other recent success stories that we've built and launched for partners:
Gridly, a web application that provides local homeowners with a customized action plan, personalized support, and trusted contractors to convert their homes to 100% clean energy usage.
Excaliper, in collaboration with Mass General Hospital, is an online platform to help trainees and other providers improve their electrocardiogram (EKG) interpretation skills.
Kolide, a mobile app that allows user to access resources and SaaS apps that are protected by Kolide and your identity provider.
Ollie Pets, a mobile app that let pet owners manage their pet food subscription
Our biggest accomplishment though is that these wins and growth have almost all been a direct result of referrals from past partners, networking, and our reputation for building things the right way. We take that seriously and are proud to build with people and partners we love.
What new and exciting things do you have planned? 
With the growth of our team, we're also rapidly expanding our capabilities across product management, product/UX design, and emerging technologies. We're excited about the practical, applied usage of AI and machine learning, and how it can help our partners innovate even faster.
As the newest member of the NHTA, we're offering a free high-level code audit for any member who might be interested in partnering with The Gnar. No pressure, no commitment at all – just an opportunity for us to introduce ourselves and provide an expert POV that might be helpful for your business.
Tell us a fun fact about the company
Fun fact: People always ask how we arrived at naming the business "The Gnar Company." But unfortunately, the story isn't as gnarly as we'd like it to be. In 2015, we started working with our first client, and dove head first into delivering the work with a team of two. But in order to get paid – we needed an official business name. The founders said, "we need to think of a gnarly name, and quick." So they punched "gnarly" into a domain name generator, were able to secure www.thegnar.com, and the rest is history.
Contact