This week's Member Monday is with York IE, a vertically integrated strategic growth and investment firm for technology companies. The company supports ambitious entrepreneurs, operators and investors on their quest to build startups, innovate at scale and disrupt markets. York IE leverages its proprietary data and automation technology and deep operational expertise to provide Advisory as a Service and to selectively invest in early-stage B2B SaaS companies.
Kyle York is co-founder, CEO and managing partner at York IE. He works closely with entrepreneurs, operators and investors to help them realize their shared ambition to build good companies, create new jobs, grow generational wealth and impact the world. He has committed his career to the enterprise software industry, driving growth for subscription, recurring revenue business models.
Why was NH chosen as the home of your organization? What do you love about New Hampshire?
I am a Granite State native who recognizes that the New Hampshire advantage is still alive and well. Manchester has resurrected its massive riverside mill district, transforming it into an innovative tech hub. NH has always considered itself a leader in tech, but we've seen in recent years that there has been a discovery of the state's tech ecosystem.
At York IE, we want to build something special, and we want to do it in New Hampshire because we think it's a special place. When I worked at Dyn, a Manchester-based DNS and email delivery services provider, I was tired of hearing how we should be located in New York City or San Francisco. We were working out of New Hampshire and still landed contracts with Amazon, Twitter and Microsoft.
The NH tech industry has a diverse sector of companies, and we've seen the effect it has on the state as a whole. The tech industry is a leading driver of New Hampshire's economy through the creation of thousands of jobs and contributions to the state's GDP. NH provides a unique opportunity for tech startups to prosper and grow in an area that isn't highly saturated.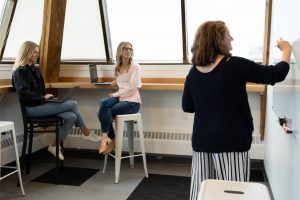 What are some recent accomplishments or milestones?
York IE has shown tremendous growth since its founding in 2019. Including:
-85 Global employees (35 in North America, 50+ and growing in India)
-Four global offices in Manchester, NH (HQ), Ahmedabad, India (APAC HQ), Boston, MA (Satellite), Portland, ME (Satellite)
-75+ global clients across industries, location, scale
-14,000+ global community across captive and social audiences
-50+ investments in 40+ portfolio companies
What new and exciting things do you have planned? 
This year is all about execution for York IE. Our investments business and our advisory practice have always been tech-enabled by Fuel, and we're excited to help more clients start thinking like tech companies and working towards becoming tech companies themselves. It can be a massive differentiator!