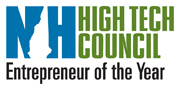 The New Hampshire High Tech Council (Council) has opened the application process for its 2017 Entrepreneur of the Year Award. Any founder or senior level manager of a New Hampshire business who has successfully organized, developed, or managed a technology concept into a commercial product or service is encouraged to apply for the prestigious award that will be presented in early June.
For the past 29 years, this annual event has promoted tech-enabled business developments and honored New Hampshire's leading technology entrepreneurs by calling attention to their successes. The application and full entry requirements are available here. The deadline for applications is Friday, April 28.
"The Council is committed to supporting the local tech sector and to celebrating New Hampshire innovators, leaders and their entrepreneurial pursuits that grow our state's economy," said Matt Cookson, executive director for the Council. "There are a number of tech leaders here in our state who have extraordinary accomplishments and each year we run this event, we discover new innovators accomplishing amazing things. We are eager to see this year's pool of applicants and to celebrate entrepreneurship in 2017."
The winner will be announced at the Council's Entrepreneur of the Year Award event in early June at Southern New Hampshire University in Manchester. The annual networking and recognition event attracts more than 250 leaders of tech-based companies, established business professionals, students and members of the tech community.
Major sponsors for the event include: FairPoint Communications; Nanocomp Technologies; Dyn; Autodesk; Cook, Little, Rosenblatt & Manson; UNH Manchester; and Newforma.