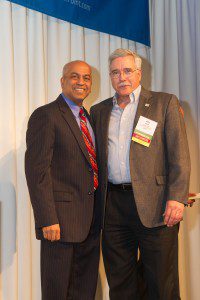 NH High Tech Council Celebrates 25 Years of NH Entrepreneurship at Annual Entrepreneur of the Year Program
The NH High Tech Council hosted its 25th Entrepreneur of the Year (EOY) award event on Monday, May 6 at 5:30 pm at the Radisson Hotel/Center of New Hampshire in Manchester.  The Council selected and recognized Marian Noronha, chairman and president of TURBOCAM International, as its 2013 Entrepreneur of the Year.
The annual event, held in May, has recognized 70 New Hampshire entrepreneurs since 1988 for demonstrating leadership and innovation within the technology sector.  Governor Maggie Hassan was in attendance and addressed the audience of nearly 300, stressing the importance of focusing on and moving forward toward making New Hampshire the most innovative state in the country.  The Governor also delivered gubernatorial citations to Noronha and retiring Council president, Fred Kocher.
TURBOCAM International is a global turbomachinery development and manufacturing company that specializes in 5-axis machining of flowpath components.  Noronha arrived in North America with only six dollars to his name and founded TURBOCAM International, located in Barrington, NH, in 1985 by leasing time in the early morning hours on computers and machinery owned by other companies.  TURBOCAM now employs 600 people worldwide with 350 of those employees in the United States. Since its founding, TURBOCAM has produced cutting-edge products that have gone into the Space Shuttle, rockets, commercial aircraft, industrial air and gas compressors, heavy truck engines and many other turbomachinery applications around the world.
"Our team is an amazing crew of 600 around the world, often looking at mountains that others dare not touch.  But we do it not just because the challenges are there, but because we enjoy the growth and taking great people with us on these conquests," said Noronha.
The anniversary event was a celebration of a quarter century of entrepreneurial history in New Hampshire. Past winners, who have enhanced the economy through their entrepreneurship by employing tens of thousands of people and bringing billions of dollars into the state's economy, were also honored during the evening. A panel consisting of previous EOY winners was on hand and offered their perspectives on what it takes to be a successful entrepreneur in today's global economy. In addition, the entire Inventioneers team of students recently featured on ABC TV's Shark Tank was on hand to demonstrate its SMARTwheel™ technology, in which two of the "sharks" have taken an investment stake.
Major sponsors for the 25th anniversary EOY event were Nanocomp Technologies; Dyn, Inc.; FairPoint Communications; Cook, Little, Rosenblatt & Manson; Baker Newman Noyes; and Compass Healthcare Advisers.
The NH High Tech Council engages, connects, and supports member companies throughout New Hampshire. As the largest member-driven technology association in the state, the Council supports research, innovation, and economic and workforce development efforts that have helped New Hampshire become a national leader in entrepreneurship and business.