TechOut
Startup Competition
TechOut is a startup competition that identifies talented, hungry tech entrepreneurs and funds them through investment capital awards.
About TechOut
Held in the fall, TechOut is a fast-paced event that features live pitches by finalists, displays of their innovations and networking opportunities with like-minded innovators, entrepreneurs and investors. All share a common goal – to enhance the tech ecosystem.
Eligibility
This event is for startups that have been in business for less than five years, have raised less than $250,000 and have earned less than $250,000 in revenue.
Investment
The 2018 event featured a $300,000 investment pool to be given out in the form of investment capital awards to the winners. The prizes are awarded based on the decisions of an esteemed group of judges with exceptional business experience, the majority of which are members of the Entrepreneurs' Fund of New Hampshire.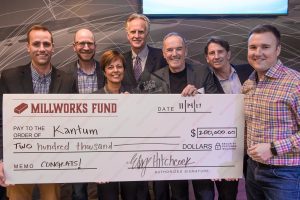 Funding for the investment awards is provided through a three year partnership with the Mill Works Fund II, a partnership among New Hampshire investors, and the New Hampshire Business Finance Authority
Past Winners
The first place prize in the 2017 competition was awarded to Kantum Diagnostics, Inc., a biotechnology company that is developing a diagnostic and therapeutic combination to prevent and treat Acute Kidney Injury (AKI). Second place went to Datanomix, a company offering a fog computing system that helps simplify and accelerate how companies extract value from machine-generated data.
Learn more about past TechOut winners.
2018 Winners

New for 2018 – Brady Sullivan Properties has donated space in downtown Manchester to the first place TechOut winner for a year! Up to 4,000 square feet of space in their 1000 or 1750 Elm Street properties, plus planning and design services, will be provided at no cost.