Finalists will vie for top award at November 10 event and celebration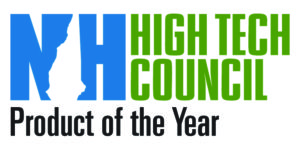 Manchester, New Hampshire – Six New Hampshire companies have earned their spot as finalists for the 2016 NH High Tech Council's Product of the Year (POY) Award. Congratulations to Contour Designs, Corflex, Jewell Instruments, Next Move Technologies, Orion Entrance Control, Inc. and Wilcox who represent the top six entries in this year's competition. At the POY finalist event on November 10, the Council will celebrate innovative products developed in the past year. The event provides a platform for entrepreneurs and inventors to receive free advice, major product promotion, and podium time in front of hundreds of tech leaders who will then help choose the winner in real time.
The RollerMouse® Free3, an ergonomic work solution for computer workstations that features a rollerbar mechanism that replaces the traditional computer mouse and can also be purchased with a keyboard. It's made by Contour Designs, a Windham company founded in 1995 that uses sound research and design initiative to continually advance the engineering of accessory products.
The Contender® Post-Op Elbow Brace, a medical device for use by patients following reconstruction surgery. It's made by Corflex, a 32-year-old Manchester company that combines unique designs and manufacturing processes with user-friendly features that help improve patient outcomes.
The JMA-165 Rail Accelerometer, a sensor used for rail applications that provides feedback on the performance and control of passenger trains. It's made by Jewell Instruments, a Manchester company founded in 1950 that designs and manufactures sensors, meters, testing equipment and other products for various industries, including avionics, transportation, military and medical.
The LinkAlign-60EBP, a power-over-ethernet antenna positioner designed for use with microwave line of sight systems. It allows users to remotely maintain their systems rather than deploy tower crews. It's made by NextMove Technologies, a Milford-based company founded in 2008 that manufactures automated antenna alignment products used in the commercial and government communications markets.
The Optical Barrier Swing Glass-Wave, a turnstile system for use in government buildings, corporate offices and other areas where secure admission is a requirement. The system uses touchless fingerprint scanning and can admit one person per second through the turnstile. It's made by Orion Entrance Control, Inc., a seven-year-old company based in Laconia.
The Hybrid Patriot 5510, a backpack respirator system that offers life support for military and first responders. The latest iteration of the product adds Bluetooth communication technology and reduces the system's weight by 10 pounds. It's made by Wilcox Industries, a Newington-based company founded in 1978.
"It's clear that innovation is thriving in New Hampshire based on the quality and uniqueness of our six 2016 finalist products," said Matt Cookson, executive director of the New Hampshire High Tech Council. "The POY event itself is a great opportunity to learn more about these products and actually vote for this year's top product."
The finalists will present their innovations to the live audience at the awards event beginning at 5:30 pm on Thursday, November 10 at the Manchester Country Club in Bedford. At the same time, they will receive advice, major product promotion and podium time in front of hundreds of entrepreneurs and tech leaders. The first place POY winner will also be featured in a display at the I-93 South Welcome Center in Hooksett.
As one of the major business events in New Hampshire, POY offers finalists and winners significant visibility through the judging process and product demonstrations, both at the event and in overall promotions. Past award winners include Plexxi, Inc., Prosenex, Nanocomp Technologies, UltraVision, Insight Tech Gear, Holase Incorporated, Sky-Skan, Foss Manufacturing, Therma-HEXX, and Single Digits.
Online registration to attend the POY event on November 10 is now open. Tickets are $50 for Council members, $75 for not-yet-members, and includes dinner and networking.
Major sponsors for the POY 2016 event include: Autodesk; Cook, Little, Rosenblatt & Manson; Cross Insurance; Dunn Rush & Co.; Dyn; Eversource, FairPoint Communications; Hanover Insurance; Nanocomp Technologies, Inc; Newforma; TD Bank; and NH Business Review.