Finalists will compete for first place on October 12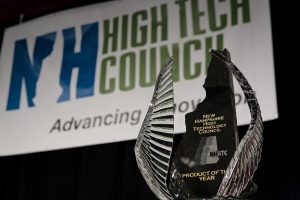 Five New Hampshire companies have earned spots as finalists for the 2017 NH High Tech Council's Product of the Year (POY) Award. Congratulations to Pilot Innovations, iCAD, Inc., Crane Currency, Wagz, Inc. and Vybe Software, LLC who are the top five entries in the 2017 competition. At the Thursday, October 12 event, the Council will celebrate innovative products developed within the past year and select the 2017 winner. The event provides a platform for entrepreneurs and inventors to receive free advice, major product promotion, and podium time in front of hundreds of tech leaders and audience members who will then help choose the winner in real time.
The Lightweight Carbon Fiber Assault Ladder LAL-18 is a minimalist, telescoping ladder that is built to withstand extreme conditions and is ideal for military purposes. It is made by Pilot Innovations, a Hooksett-based advanced composites company that specializes in partnering with elite individuals and organizations to solve challenges.
The PowerLook Tomo Detection is an artificial intelligence-based software solution designed to optimize breast tomosynthesis reading efficiency and support cancer detection without compromising reading performance or increasing recalls, resulting in improved quality patient care. It is made by Icad, Inc., a Nashua-based company that provides innovative breast cancer detection solutions and services that enable earlier cancer detection and improve reading workflow.
The Motion Surface™ is a new class of banknote security that produces three dimensional effects, ensuring banknote authenticity and value. It is made by Crane Currency, a company located in Nashua that is a fully-integrated supplier of banknotes for central banks all over the world.
The Wagz Smart Dog Collar is the first all-in-one smart collar built to strengthen the connection between humans and dogs. It is made by Wagz, Inc., a Dover-based company with a mission to create smart products that understand, track and connect dogs to their humans like never before.
The DevKit is an iOS application that enables users with no programming experience to create their own mobile apps and games from their iPhones and iPads without having to write any code. It is made by Vybe Software, LLC, a Bedford based software company focused in the computer science education space with a mission to inspire the next generation of software engineers.
"Each year, we find that innovation in New Hampshire is flourishing as we continue to have an incredibly diverse and creative pool of products submitted for the competition," said Matt Cookson, executive director of the New Hampshire High Tech Council. "The products selected as finalists for the 2017 Product of the Year demonstrate thiat entrepreneurship is alive and well here and we look forward to hearing their live pitches and seeing which one of our finalists take the POY honors for 2017."
The finalists will present their products to a live audience at the 2017 Product of the Year event on Thursday, October 12 beginning at 5:30 pm at the Manchester Country Club in Bedford. The events includes networking opportunities, a chance to meet the finalists and see their products, and food and beverages.
Finalists will also receive advice, major product promotion and podium time in front of hundreds of entrepreneurs and tech leaders. The first place winner will be featured in a display at the I-93 South Welcome Center in Hooksett. As one of the major business events in New Hampshire, POY offers finalists and winners significant visibility through the judging process and product demonstrations, both at the event and in overall promotion.
Past award winners include Wilcox Industries, Plexxi, Inc., Prosenex, Nanocomp Technologies, UltraVision, Insight Tech Gear, Holase Incorporated, Sky-Skan, Foss Manufacturing, Therma-HEXX, and Single Digits, Inc.
Online registration to attend the POY event on October 12 is now open. Tickets are $50 for Council members, $75 for not-yet-members, $25 for students and includes dinner and networking.
Major sponsors for the 2017 POY event include: FairPoint Communications, TD Bank, Newforma, Cook, Little, Rosenblatt & Manson, Oracle/Dyn, Sheehan, Phinney, Bass & Green, Cirtronics, Single Digits, Eversource, Cross Insurance, Hanover Insurance, MFI Productions, Nanocomp Technologies, Inc. and New Hampshire Business Review.