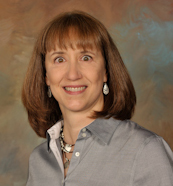 The TechWomen Power Breakfast series goes on the road in June and will be held in Durham at the recently opened University of New Hampshire's InterOperability Laboratory (IOL). Join us Wednesday, June 8 from 7:30 to 9 am at the IOL, 21 Madbury Road, Durham. Sharon Kaiser, chief information officer at New England BioLabs (NEB) – a global life sciences company headquartered in Ipswich, Mass. – will headline the event. Kaiser's talk is titled "Succeeding as a life-long learner" and she will also speak about her experience overseeing global information technology and the complexities and challenges she faced along the way in an industry that is highly regulated.
"We are excited to welcome Sharon as our June Power Breakfast speaker. A woman technologist leading the information and computer systems for a global company has so much to share with our attendees. We hear repeatedly from Power Breakfast goers that an inside view into such an instrumental role is of great value," said Michelline Dufort, director of business relations for the Council.
Prior to joining New England BioLabs, Kaiser served as chief information officer at Abiomed, a medical device manufacturer in Danvers, Mass. In addition to the life sciences field, Kaiser built her extensive knowledge of SAP, technology and operations management in several industries, including medical device, manufacturing, retail, financial and credit card services, and petroleum. In 2014, Kaiser was honored as a recipient of the 2014 CIO of the Year Award for Healthcare / Life Sciences by the Boston Business Journal. She is recognized as a successful leader for effectively managing international initiatives, simplifying complex operating environments with multi-faceted issues, leading business process improvements initiatives, incorporating effective change management practices and managing enterprise development activities to affect bottom-line results.
Kaiser holds an MBA, with an emphasis in Finance, from Oklahoma State University and a BSBA in Information Technology from the University of Arkansas. She is a frequent speaker on Information Technology and SAP. Kaiser has served as the Market Leader for the Americas SAP User Group's (ASUG) Small and Medium Enterprise Special Interest Group and currently serves on the SAP ASUG Board of Directors.
The TechWomen|TechGirls initiative is sponsored by TD Bank and Newforma. The June Power Breakfast is sponsored by Microsoft. Tickets for the Power Breakfast are $10 for members of the Council and $20 for not-yet-members. Register online or call 603-935-8951. Seating is limited, so individuals are encouraged to register early.