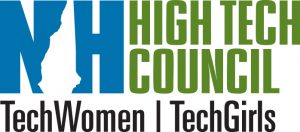 November 13 kicks off New Hampshire High Tech Council's (Council) 3rd Annual TechWomen Ambassador's week, where schools across New Hampshire will hold special sessions for ninth grade girls to discuss careers in science, technology, engineering and math (STEM) with women currently employed in those fields. The two-hour sessions, taking place in Lebanon, Nashua, Rochester, Manchester, Derry, Plaistow, Berlin, and new locations in development are the center of the newly-launched TechWomen Ambassadors initiative, born out of the New Hampshire High Tech Council's TechWomen|TechGirls initiative.
TechWomen|TechGirls is a forum focused on building a strong community of women enthusiastic about technology and supporting efforts for young women to explore STEM careers. Launched in 2015, the committee has become an integral part of the Council's outreach and engagement activities; and TechWomen Ambassadors Week organizers hope to tap the group's vast expertise to help inspire young women.
"The theme of our event is STEMspiration – inspiring girls to explore STEM careers. We are looking for strong role models to show eighth and ninth grade girls that they can aspire to a higher educational path to STEM careers while balancing their personal lives," said Carol Miller, who co-chairs the TechWomen Ambassador Committee and is also director of broadband technology at the NH Division of Economic Development at the Department of Business and Economic Affairs. "We know that making an impact now will ensure that New Hampshire women can pass the baton to generations of STEMinspired girls in the future."
Meetings will begin with a 30-minute opening talk where students will hear from professionals in many different tech fields. Then, they will participate in small roundtable discussions with other students and mentors designed to encourage aspirations of STEM related career goals and discuss the path to realize them. The TechWomen committee is seeking volunteers in STEM, bio/medical, and advanced manufacturing to volunteer as mentors and workshop leaders with students.
Learn more about the TechWomen|TechGirls initiative here or by calling Carol Miller at 603-271-2341 or carol.miller@nh.gov.