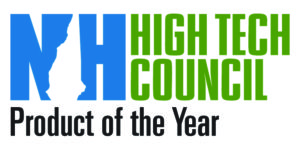 The NH High Tech Council (Council) has extended the application deadline for the annual Product of the Year (POY) Awards to Friday, September 8. POY finalists will present their case on why they should be selected for developing the most innovative tech product over the past year on Thursday, October 12 from 5:30 to 7:30 pm at the Manchester Country Club. The POY event will feature product demonstrations, opportunities for audience members to help select the winner in real time, and podium time for finalists in front of hundreds of tech leaders.
Tickets to the event are available here. Tickets are $50 for Council members and $75 for not-yet-members. The event includes networking opportunities, product demonstrations, dinner and a cash bar. Past winners of the Product of the Year award include Wilcox Industries, Plexxi, Prosenex, Single Digits, Nanocomp Technologies, UltraVision, Insight Tech Gear, Holase Incorporated, Sky-Skan, Foss Manufacturing and Therma-HEXX.
Major sponsors of the 2017 POY Awards include Oracle, Nanocomp, Fairpoint Communications, Cook, Little, Rosenblatt and Manson, TD Bank, Cross Insurance, Eversource, Single Digits and Hanover Insurance.
To learn more about Product of the Year click here or call 603.935.8951.