Join innovators on June 7 at Southern New Hampshire University for a unique approach to honoring entrepreneurs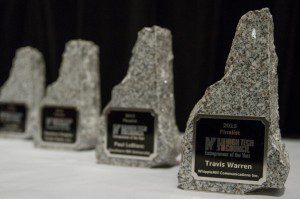 This year, as we have for the last 28 years, the NH High Tech Council will bestow the prestigious Entrepreneur of the Year (EOY) Award to an individual who has significantly advanced innovation in the Granite State over his or her career. The award event will take place from 5:30 to 8 pm at Southern New Hampshire University in Manchester on Tuesday, June 7. And for the first time, the Council will crown the 2016 winner at an event designed to be more inclusive and thought provoking than ever before by featuring brief talks and unique demonstrations – all taking place at a new locale where innovation is part of campus culture.
"Technology, education, and creativity are intertwined, together producing the foundation for true innovation and success," said Matt Cookson, the Council's executive director. "We are excited to hear what ideas we might spark at this always-evolving event, and what better way to champion new approaches and ways of thinking than to disrupt our own event."
While the nomination period for the award closes April 15, event organizers have secured local visionaries who will share brief remarks about how disruption – the EOY event's theme – drives our economy and shapes how we will work in the future. They are: Paula C. Beauregard, Co-founder, President and CEO at Edge Velocity Corporation; Edna Conway, CSO, Global Value Chain, Cisco Systems; Jeremy Hitchcock, CEO at Dyn; and Paul LeBlanc, President of Southern New Hampshire University.
Since co-founding Edge Velocity Corporation in 2004, Paula C. Beauregard has guided the company into a leadership position in first responder, transportation and government markets. Working closely with such key customers as the Fire Department of New York (FDNY) and key partners including Raytheon, Paula has managed the company's through an exciting period of technical innovation and business growth. Under her leadership the company has received recognition by several national organizations, including being named to the Inc. 5000 of fastest growing US companies, and the fastest growing woman-led company in New Hampshire.
Conway develops and oversees global security for Cisco's international network of supply chains, partners, and services organizations. Her work also includes cyber security, risk and resiliency planning, and roles within multiple industry groups, such as The Open Group Trusted Technology Forum, among others. Her prior roles span business, leadership, engineering and legal positions at Cisco, as well as a partner in an international private legal practice, and served as Assistant Attorney General for the State of New Hampshire. She holds an AB from Columbia University, a JD from the University of Virginia School of Law and Executive Education credentials from Carnegie Mellon University, Stanford University and MIT.
Hitchcock cofounded Dyn, the company for which he now serves as CEO, and is a leading voice in STEAM Ahead NH, an initiative designed to connect students to science in meaningful ways. His accolades include numerous Inc. 5000 and Deloitte Fast 500 rankings, and Hitchcock was a finalist in the 2012 Ernst and Young Entrepreneur of the Year; he was the Council's 2012 Entrepreneur of the Year. He holds a BS in management information systems from Worcester Polytechnic Institute and his work on building ecosystems, education, and startups has been published in publications such as The Washington Post, Venture Beat, Forbes, and others.
LeBlanc has been president at Southern New Hampshire University since 2003, where he champions new academic pathways that make higher education more attainable for all. His past awards include the Council's Entrepreneur of the Year award in 2015 and the New England Higher Education Excellence Award. He has been named one of New Hampshire's Most Influential People by NH Business Review, and dubbed one of Forbes' "15 Classroom Revolutionaries." His work outside New Hampshire includes director and vice president of a tech-focused publishing startup and president of Marlboro College. He holds a BA in English from Framingham University, an MA from Boston College, and a PhD from the University of Massachusetts.
Tickets to the event, where attendees will hear from these three local innovators and find out who is named 2016 Entrepreneur of the Year, are available online. Tickets are $75 for members, $100 for not-yet-members, and $30 for students. The event includes networking, tabletop presentations from promising tech start-up companies, dinner and cash bar. Sponsorships are still available; to learn more about participating in this event, contact michelline@cooksonstrategies.com.