The Echo Group, founded in 1980 in the Mt. Washington Valley region of New Hampshire, provides health information technology (Health IT) solutions for behavioral health and human service organizations. Created from the vision of George Epstein, then a 28-year-old Deputy Director of a regional behavioral health center, this successful Health IT company today employs 90 people who serve customers in 40 states that use a comprehensive suite of software and services that enable clinicians to focus on what they do best – delivering patient care.
After decades at the helm and new CEO Matthew Caggiano in place, George shared his insights about starting and building a successful technology company in Conway, New Hampshire.
The Starting Point
In the early 80's, I saw the need for a computer-based program that would allow me to efficiently send behavioral health center clinical and financial reports to the federal government from the center I managed in the Mt. Washington area. I created it, the federal government liked it and The Echo Group was formed. Then later during the Reagan Administration, healthcare policy, funding, and reporting decentralized to state governments. Every behavioral health organization, private or public, large and small, had new and different reporting, compliance, and billing requirements – 50 different sets to be exact.
The Echo Group set out to help these organizations and now 30 years later offers applications for electronic health records, government reporting and compliance, clinical and financial decision support, and medical and government billing functions as well as hosted or SAAS-based software for managed care organizations.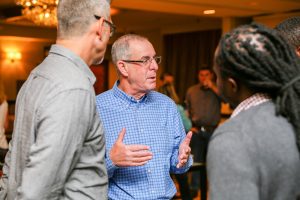 Employees and Customers Drive Innovation
The booming Health IT industry seems to swirl around the high-tech regions of Boston and San Francisco. I often get asked about innovation and "keeping up."  Echo employees are on the front lines of Health IT and are our best source of brilliant ideas. What's even better? They know how to make these ideas come to life.
Since America does not have a national mental health system, we also get to see what's going on in every state and collaborate with our customers to create innovative solutions that work for them.

Words of Wisdom
The work I do with the Mt. Washington Valley Tech Village, a technology park, Granite State College campus and business incubator here in Conway, allows me to see first-hand how disciplined leaders should be in today's market.  I learn just as much from them as they do from me. No matter what the product or service, I believe startups should:
Establish a business model that has a future,
Understand their industry, and
Use their capital resources wisely.
The successful technology companies here in the Valley should encourage entrepreneurs to feel comfortable about starting a business in the Mt. Washington Valley.  The local Economic Council and those of us who have built businesses here will help them realize the opportunity to be an economic engine in the region. Resources are available, including a local Angel Investment group, and recruiting benefits from our beautiful location.
We hope investors understand that we are not creating "lifestyle companies." We are building profitable, sustainable companies that are enabling people to live and work where they want while earning a livable salary and helping their communities thrive.
What's Next
Delivering healthcare services is not getting any easier for Echo customers and with every change of guard come changes to healthcare mandates and policies. Echo's 30 years of healthcare industry experience, coupled with our unique set of software and services positions us for our next phase of growth.