Product Description:
ASR Alert Systems is a patented state-of-the-art critical incident response technology specializing in the field of alert notifications to Law Enforcement and First Responders in the event of an active shooter.  Our technology can be customized to any industry, building, or event.  We deliver customer-specific technology unmatched by anyone.  Our critical incident response technology DIRECTLY communicates with first responders in the area to significantly decrease response times to an active threat.
How it Works:
An Active Shooter/Assailant threat presents itself in your business or establishment. Immediate action is needed to tend to the situation at hand as the clock is ticking.  The ASR Alert System (critical incident response technology) is activated via one of the stationary wall-mounted activation points, mobile pendant lanyards or ASR APP.  Sirens and strobes are initiated to alert personnel to act in accordance with their active shooter/assailant protocols. The sirens and strobes are also an effective means to disorient the active shooter/assailant.  All with the push of a button.  
Upon initiation, all personnel within the organization, as well as local law enforcement, will receive immediate emergency alerts via text and email notifications on cellular telephones, computers, and wearables.  Our critical incident response technology is the trigger to initiate the life-saving response from law enforcement.  
The nearest law enforcement personnel will be able to move quickly to neutralize the threat and tend to the emergency at hand.  The ASR Alert System saves time by providing the exact location of the threat as well as images from system cameras where available.  The system can also integrate into other technologies the organization may already have in place such as access control, video management systems, scrolling boards, public announcement systems, and visitor management systems.

Problem it solves:
The traditional 911 call timeline is too long during a violent attack.  Outdated technology and an antiquated process for reporting critical information to first responders during a crisis event, like an active shooter, can delay police response times.  The average police response time to a school active shooter, for example, is 18 minutes while the average active shooter event takes 13.5 minutes.  The result is first responders arriving on the scene an average of 4.5 minutes AFTER the active shooter crisis has ended.
When the ASR Threat Alert System is installed, with the press of a button, officers and dispatch are instantaneously and directly notified of the incident (bypassing traditional 911).  This includes the address and location within the building.
They know:
What is happening,

Where it is happening,

Who it is happening to and,

Personnel know help is on the way immediately so they may focus on seeking safety
This significantly reduces response time from Law Enforcement while also notifying all those under attack within the organization/building.  The ASR Threat Alert System can be installed and implemented across any vertical market, for any business or school, and can even be utilized for outdoor events.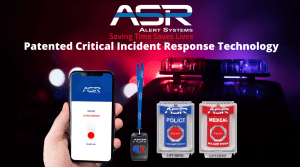 Why is New Hampshire a great place to innovate?
Violent events and threats of violence are on the rise across the United States.  While the State of New Hampshire as a whole has taken many steps to prevent violence against its citizenry, active shooter incidents can happen anywhere and at any time. Historically, real-time critical information is a common issue that has presented itself at every active shooter incident.  ASR was developed to fill the void of passing real-time critical information to first responders and all those under attack because saving time saves lives.
Contact: