Product Description:
Hello better WiFi. Get total control over your network with motosync, powered by Minim, a smart app that helps you manage, optimize, and secure your connections from anywhere. Download the motosync app to set up your Motorola Networking Device in minutes and:
Test and optimize your internet speed

Manage screen time with parental controls

Protect your devices and data from online threats

Easily and securely share your WiFi with guests

Monitor and control your network from anywhere
Problem it solves:
Consumer interest in a service that can proactively identify and resolve network issues more than doubled in 2021 alone, according to leading industry analyst Parks Associates. Wherein networking security and monitoring features typically come at an additional fee, the motosync app, powered by Minim, comes bundled with intelligent Motorola Networking Products at no additional cost, empowering users with:
– Parental Controls like Bedtime Schedules, Screen Time Limits, Safe Search, Device monitoring, and more. 
– Security and protection against malware, intrusive devices, AP spoofing, lateral attacks, and more. 
– Privacy features like Ad and Tracking Script Blocking, which improves device performance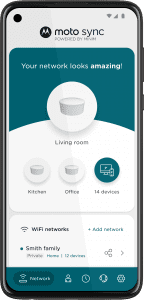 Why is New Hampshire a great place to innovate?
The Granite State is full of visionaries constantly working to improve economic vitality, aid workforce development, and support innovation. Minim (pre-merger) was founded in Manchester, New Hampshire, and has since grown from a small tech startup to the creator of intelligent networking products under the globally recognized Motorola® brand. Founded by a group of individuals passionate about delivering safe and supportive WiFi, we are honored to have had three Minim Board Directors recognized in The New Hampshire 200, The State's Most Influential Business Leaders (2021) for their contributions to this vision on a local and global scale. 
"While Minim has a global vision, we seek to make an impact in all the communities where we operate," said Gray Chynoweth, Minim Board Director and CEO. "Eliminating the stress that comes with poor-performing WiFi and cybersecurity threats is central to Minim's mission to make all our connected homes and offices safe, simple, and fun for both life and work." 
Contact:
https://www.motorolanetwork.com
Social 
Twitter: https://twitter.com/MinimSecure (@minimsecure)
Linkedin: https://www.linkedin.com/company/24429928/admin/
Facebook: https://www.facebook.com/MinimSecure