Innovator of the Week
Bill J. Hudenko
CEO of Incente LLC

Please provide your 30-second pitch about your company.
Proxi is designed to elevate the standard of best practice in mental health. We provide a truly patient-centered platform that encourages those with mental illness to leverage their natural support networks. At the same time we provide mental health clinicians with digital tools to enhance their work by giving them access to novel collaboration, assessment, and learning capabilities that interface seamlessly with the patient's experience.
Who or what was your best resource for starting your company?
It is difficult to select one person or resource because starting a company has to be such a team effort to result in success. Every investor will ask you to talk about your team because they know that it is people who make or break a company. In our case, I am fortunate to be a professor of Psychology and Psychiatry at Dartmouth, so I've had access to wonderful thinkers and great resources. We've benefited from Dartmouth's generosity and assistance through resources like the Dartmouth Entrepreneurial Network, the Digital Arts Leadership and Innovation Lab (DALI), and through the department of Psychiatry. My co-founder Dom Candido and I have also been fortunate to recruit some great local business leaders to assist us like Jim Varnum (past president and CEO of Dartmouth-Hitchcock), Brian Drew (senior leadership at Anysys), Mike Morton (formerly Google, Apple, and now Onshape), Michael Tupanjanin (formerly CEO of Metavana, and VP of Microsoft's FAST), Rick Johnson (former associate director of the Dartmouth Institute), and Doug Gladstone (CEO of BrandContent).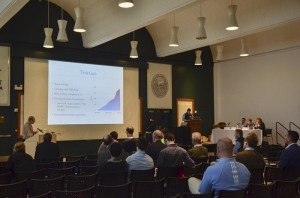 What was the biggest obstacle in starting your company and how did you overcome it?
Fundraising without question. It is difficult to raise capital without a working prototype of your product. Given the HIPAA security restrictions and sensitive nature of our patient data we had to do a lot of development before we could bring Proxi to the market. I didn't have a business background when we started the company so it was an exponential learning curve understanding how to effectively engage investors and to help them see the true potential of our product before we were generating any revenue.
What is the best advice you have received?
When speaking with John Ballard, a veteran business man and Dartmouth Alum, he told me "you can do anything in business as long as you make money." As a clinical psychologist and provider of mental health services I've always been driven to help people and make a meaningful difference in my field. John's words of wisdom struck me because it is critical to have vision and passion but it's not enough. If you want to succeed you have to have a clear plan to monetize your business and you must really understand your market. In my case, I'll never lose my passion and vision for transforming mental health, but I had to learn how to build a successful and profitable company that can sustain itself.
What about the NH lifestyle appeals to you?
I spent most of my childhood in New Mexico so I think I'm still adjusting to long winters! Nonetheless, I have fallen in love with the amazing outdoor opportunities and natural beauty of New Hampshire. Every day I have a beautiful, 15-minute traffic-free commute along the Connecticut River as I drive to work. Who could ask for anything more? Also, as a businessman I think that New Hampshire really fosters a sense of independence and an entrepreneurial spirit. While people have helped us immeasurably to start our company I think the ethos of our state is one of "you can do it if you work hard."
What does the future look like for your company?
We've been very fortunate to have an explosion of interest in our product. Right now there is a lot of interest in mental health and technology and I think we're going to see big changes in how we approach the treatment of mental illness. We are already working on some partnerships with companies who have novel, direct-to-consumer digital health products. We believe that Proxi will become the standard platform for the delivery of mental health services as we continue to achieve market traction.