Katie Destramp is the Senior Manager, Cloud Engineering at Fastly, a San Francisco based edge cloud platform. Fastly is an extension of their customers' infrastructure, focused on driving digital performance and security across the internet. Essentially, they make sure web and mobile content loads quickly.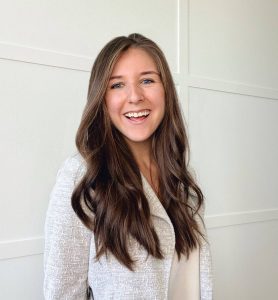 In addition to serving on the board of the New Hampshire Tech Alliance, Katie has been a speaker at TechGirls Ambassadors Week, a program focused on young girls interested in technology.
What is one piece of information you know now that you wish you had known when you started your career?
Early on, I didn't realize that no one would hand me the opportunity to grow my career. I remember working in a technical support organization and wanting to get into sales engineering. So many roles opened and closed for a Sales Engineering role at that company, and I can remember wondering why no one asked me to interview. It was only a few more months that I realized I needed to seek out opportunities, speak up about what I wanted, and work relentlessly towards my goals.
What is your favorite part of being a member of the New Hampshire Tech Alliance and why would you recommend it to others?
I have always been passionate about giving back to the NH Tech ecosystem. This community is responsible for many opportunities I've had during my career. Joining the Alliance has given me many options to impact positive change, especially through our Education programming. One of my favorite parts of being a member is speaking with young kids interested in technology through our TechWomen/TechGirls Ambassadors Week program.
Click here to find out more about the TechWomen initiative or visit nhtechalliance.org/techwomentechgirls
What do you like to do in your free time away from your career and the NHTA?
During the warmer months, I love to get outside with my dog and husband. We love to go up north, get outside, and hike! In the winter I am an avid snowboarder. We also love to travel, this year we were so thrilled to get to take a few different trips and see the world!
Besides your own, what company (any time period) do you wish you could have founded or worked at and why?
I am intrigued by how people communicate, especially as society has transformed communication methods over the last ten years. I would have found it so interesting to work at Apple circa 2012. They are responsible for changing us from a talk-based to a message-based society. It would have been fascinating to be part of the team that builds the strategy around communication methods.
To learn more about the New Hampshire Tech Alliance, connect with Katie or .