This week's Member Monday features Lake Street Advisors. Lake Street Advisors has been providing wealth management and legacy planning for entrepreneurs and executives since 2003. From years of working with founders, CEOs, and early investors, they have significant experience with financial strategies unique to early-stage and growth-stage companies.
With a focus on exceptional service and bottom-line results, Lake Street's team of experienced advisors and professionals integrate holistic financial advice with investment management to offer personalized wealth management services that align with their clients' goals at every stage of life. Lake Street's mission is to give clients the peace of mind that comes from having a dedicated team in place managing their wealth and giving them back more of their most important asset, time. Lake Street Advisors has locations in Boston, MA and Portsmouth, NH, and serves clients throughout New England and across the country. 
Interested in learning even more about Lake Street Advisors? Visit their website here and check out the interview below.
Every week, we will be spotlighting members of NHTA to bring awareness to the entrepreneurs, businesses, and innovators of New Hampshire's expansive tech community. Be on the lookout every Monday for an opportunity to learn more about the exceptional members of the Alliance.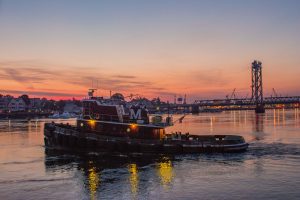 Why was NH chosen as the home of your company/branch? What do you love about New Hampshire?
What's not to love? Our office is in the heart of downtown Portsmouth, surrounded by all of the great restaurants and shops.  We're fortunate to be able to take a lunchtime walk through Strawberry Banke or get the team together at the decks for happy hour. And as financial planners, we can't ignore the low taxes!
What are some recent accomplishments or milestones of your company? 
Our company started in Wolfeboro in 2003, which means we're coming up on our 20 year anniversary!  A lot has happened in that time, growing from two people to 37, with clients across the country.
What new and exciting things do you have planned? Or tell us a fun fact about the company? 
We've recently focused our efforts on serving tech entrepreneurs in New England, and what an exciting time and place to do that!  The innovation and creativity we see every day is an amazing way to stay energized about what we do.
Stay connected with Lake Street Advisors on social media:
LinkedIn: https://www.linkedin.com/company/lake-street-advisors/