The NH Tech Alliance hosted the annual TechWomen Connect and Awards event on Thursday, June 22, 2023.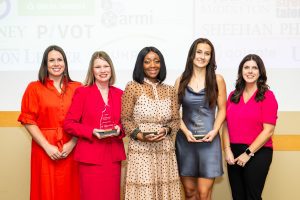 Photo Credit: Jessica Arnold, Arnold Imaging LLC
The event is the largest networking event for women in tech in New Hampshire and provides an opportunity for the attendees to connect with other tech professionals, receive professional headshots, and network with local non profits providing STEAM education to students. 
This year's event was held at NHTA Member Fidelity Investments' campus in Merrimack, NH.  Fidelity is one of New Hampshire's largest tech employers and is a technology hub for the company. They employ more than  70,000 associates globally, with more than 6,700 of those in New Hampshire, and technologists make up ~25% of their workforce. Fidelity offers many support programs for those working or wanting to work in tech, including on-the-job training across technology focus areas and an employee resource group focused on women in technology.
Over 120 tech professionals were in attendance to see the Tech Educator, Tech Student and Tech Professional of the Year receive their awards. This group of inspiring women are dedicated to supporting and advancing women and girls in the STEM fields.
NH Tech Alliance Executive Director, Julie Demers shared that the Alliance was "thrilled to reimagine the TechWomen Awards program which has gained tremendous momentum over the past 8 years. Fidelity seemed like an obvious partner given their long standing commitment to supporting women in technology.  The recipients this year embody what these awards are all about. A strong commitment to supporting and promoting STEM careers to women and girls in NH. That is really what the TechWomen awards are all about."
The recipients were:
Tech Student: Kennedy Amorim, Derryfield School
Tech Educator: Jennifer Cava, Academy for Science and Design
Tech Professional: Flo Nicolas, Get Tech Smart and DEI Directive
Each recipient was given time for remarks and below are quotes from each person.
Jennifer Cava " it's time to truly integrate the teaching of STEM subjects and all subjects for that matter…By integrating these subjects, we can help our students develop a more holistic understanding of the world around them, preparing them to tackle the complex challenges of the future."
Flo Nicolas "To everyone here, especially young women know this you are enough; you are worthy. Accept who you are and know that you define who you are."
Kennedy Amorim "this award will serve as a constant reminder of the responsibility I bear to use my skills and knowledge to drive positive change and make a meaningful contribution to this ever-evolving world."
Nominations for the TechWomen Awards open each January and more info can be found at www.nhtechalliance.org/tech-women-awards