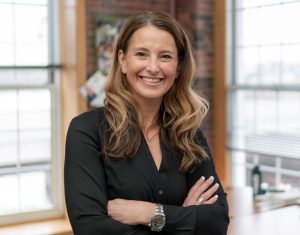 The NH Tech Alliance is pleased to announce Heather Lavoie as the newly appointed Chair of the Board of Directors. Lavoie's appointment was made official during the NH Tech Alliance's Board Action Planning Session on June 13, 2023. She succeeds Gary Sloper of Macronet Services, who served as the Board Chair from 2021-2023
Heather Lavoie brings with her a wealth of experience and a proven track record in the technology sector, working with organizations solving complex problems in healthcare and society.
As the new Chair of the Board, Heather will play a pivotal role in shaping the strategic direction of the NH Tech Alliance, championing its mission to advance technology innovation and entrepreneurship throughout the state.
Heather has been an active member of the NH Tech Alliance Board of Directors since 2018, contributing significantly to the organization's initiatives. With her deep understanding of the challenges and opportunities facing the technology industry, she is well-positioned to lead the Alliance into the next phase of its growth.
Heather spent the last 20 years of a 35 year career founding and leading technology services organizations. In her current role at Illume Advisors, Heather assists global entrepreneurs and executives with strategy, leadership and execution. Heather is a current member of the Advisory Board for UNH-Manchester and was previously Board Chair for Granite United Way and a member of the Board and Executive Committee of the NH Business and Industry Association.  Her leadership skills, extensive network, and commitment to fostering collaboration make her a valuable asset to the NH Tech Alliance and its members.
"We are thrilled to have Heather Lavoie assume the role of Chair on the NH Tech Alliance's Board of Directors," said Julie Demers, Executive Director of the NH Tech Alliance. "Heather's expertise and passion for technology, combined with her dedication to the advancement of the industry, make her an ideal leader for our organization. We are confident that under her guidance, the Alliance will continue to flourish and drive innovation in New Hampshire."
 Commenting on her appointment, Lavoie stated: "It is an honor to serve as Chair of the NH Tech Alliance Board of Directors.  Having worked in technology and start-ups in New Hampshire for the better part of three decades, I have witnessed first-hand the transformative effect a thriving tech industry can have on the State.  I am particularly excited about the work of the NH Tech Foundation in supporting underrepresented communities, as a more diverse, inclusive industry will naturally foster growth and innovation in New Hampshire.