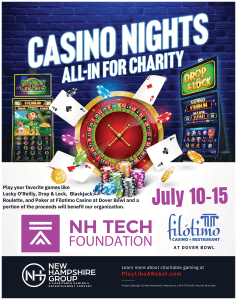 In 2006, House Bill 1744 was enacted, allowing casinos in New Hampshire to operate with the obligation that 35 percent of their gross gaming revenue be donated to charity. 
The NH Tech Foundation is proud to partner with Filotimo Casino at Dover Bowl to support the Foundation's charitable mission to enhance New Hampshire's technology sector by increasing access to technology career pathways and entrepreneurial resources for underserved and underrepresented populations throughout the state. 
Since 2020, the NH Tech Foundation has supported free office hours for dozens of startup founders, free DEI office hours for New Hampshire companies and monthly TechWomen|TechGirls programming delivered to more than 600 women and students in the state. 
If you are passionate about the NH Tech Foundation's mission and want to support efforts like these, we invite you to have the most fun you'll ever have supporting a good cause! All you have to do is play! The NH Tech Foundation will receive a portion of the proceeds generated the week of July 10-14 at the Filotimo Casino in Dover.