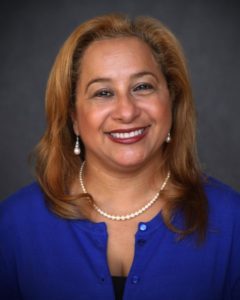 Claritza Abreu to discuss the Impact of mentors and role models in one's career
The New Hampshire High Tech Council (Council) will host its next TechWomen|TechGirls Power Breakfast on Wednesday, April 12, 2017 from 7:30 to 9 am at the Portsmouth Country Club, 80 Country Club Lane, Greenland. Claritza Abreu, MSCIS, vice president of enterprise technology risk management for State Street Corporation – a financial services holding company – will  headline the event and discuss how her mentors and role models impacted her career.
"Claritza has an impressive background and a true passion for STEM education and mentorship," said Candice Benson, Council board member and chair of the TW|TG Committee. "We all have that one person, or that one role mode or small group we can thank for mentoring us throughout the many stages of our life and I am eager to hear how Claritza's network impacted her career and her thoughts on the importance of giving back through mentorship."
In addition to her role at State Street, Abreu, who is originally from the Dominican Republic, works as program chair and senior faculty of Information Technology at the Cambridge College School of Management in Massachusetts. She has held several senior IT executive positions with the Federal Reserve Bank of Boston, the Massachusetts Secretary of Health and Human Services and the Boston Public Health Commission, and devotes a significant amount of time to community service supporting public health research, STEM education, mentorship and social issues. Abreu has been honored with multiple awards including the "Women to Watch" award from the Boston Business Journal/Mass High Tech Magazine, one of the 100 most influent Hispanics in Massachusetts by El Planeta, the "Excellence in Technology Award" by the Governor, the Commonwealth of Massachusetts and many more. Her most recent accomplishment is the launch of LATINC.US – the  first global web and mobile app for Latino students and professionals to connect, mentor, find jobs and training opportunities. Abreu holds a bachelor's degree in Computer Systems Engineering from INTEC, a master's degree in Computer Science from Boston University and several graduate certifications in technology, leadership and public administration.
The TechWomen|TechGirls breakfast series is sponsored by TD Bank and Newforma. The sponsor of the April breakfast is Measured Progress. Tickets for the Power Breakfast are $10 for members of the Council and $20 for not-yet-members, and includes breakfast. Register here or call 603-935-8951. Seating is limited, so individuals are encouraged to register early.