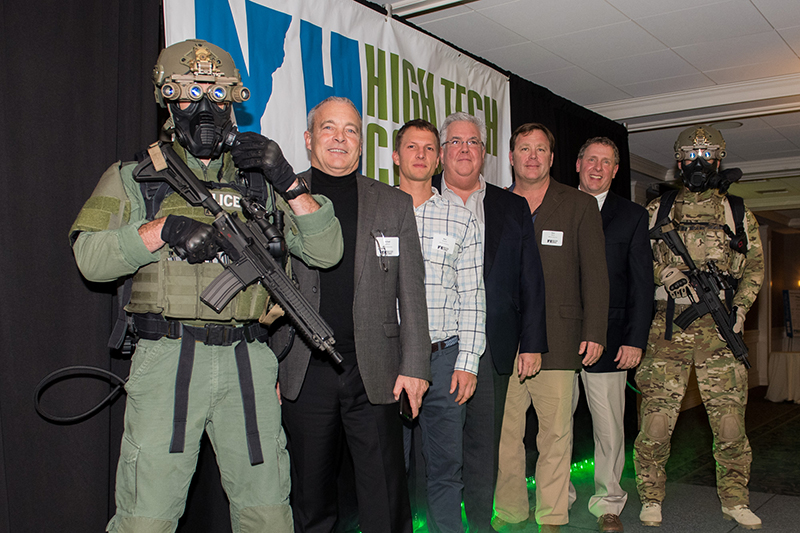 Pictured left to right: Sgt. Steven Bolduc of the Exeter Police Department Special Emergency Response Team (SERT); Michael Helfich of Blueforce Development; Ned Dazell of Wilcox; Jim Teetzel, CEO of Wilcox; Dave Kent; Tim West; and Roger Desrosiers of Wilcox.
Manchester, New Hampshire – Wilcox Industries, a Newington-based manufacturer of tactical products, won over the judges and crowd of more than 150 spectators at the NH High Tech Council's 11th annual Product of the Year competition held Thursday, November 10 at the Manchester Country Club. The Council's premier event featured five New Hampshire companies vying for top prize, as each made a live, seven-minute pitch about the innovative product they've developed within the last year. Wilcox's Patriot 5510 backpack respirator system beat out the competition after votes from a panel of judges and a real-time audience vote were equally weighed and tabulated.
"The 2016 Product of the Year event brought new meaning to being 'made in New Hampshire.' We learned about five unique products made here and used worldwide, products that play a key role in transit, safety, health and information technology. Congratulations to the Wilcox team for taking honors and for all of the fine work being done by our finalist companies," said Matt Cookson, the Council's executive director.
Wilcox Industries was founded in 1978. Its innovative product showcased at POY, the Scott Hybrid Patriot 5510 is a backpack respirator system that offers life support for military, first responders and hazardous materials handlers. The latest iteration of the product adds Bluetooth communication, real-time data readings of environmental conditions, and reduces the system's weight by 10 pounds. It is used by elite tactical organizations including NAVY Seals, military explosive disposal units, fire departments, the presidential guard, and the U.S. Secret Service.
"This product is manufactured locally and deployed globally, with feedback from many organizations to – over the years – build the latest and greatest iteration of the Patriot 5510," said Tim West, of Wilcox Industries. "It allows the individual to stay on target longer, collect evidence, save lives and make crucial decisions in real time. We thank you for recognizing the effort our company has put into this product."
As first place winner, Wilcox was awarded the prestigious NH High Tech Council Product of the Year hand cut crystal trophy, designed by world-renowned Pepi Herrmann Crystal of Gilford. The company will also be prominently featured in a display at the I-93 South Welcome Center in Hooksett.
Product of the Year finalists included: The RollerMouse® Free3 by Contour Designs; The Contender® Post-Op Elbow Brace by Corlfex; The JMA-165 Rail Accelerometer by Jewell Instruments; The LinkAlign-60EBP by NextMove Technologies; and The Optical Barrier Swing Glass-Wave by Orion Entrance Control, Inc.
Major sponsors for the POY 2016 event included: Ascendle; Autodesk; Cook, Little, Rosenblatt & Manson; Colliers International; Cross Insurance; Dunn Rush & Co.; Dyn; Eversource, FairPoint Communications; Hanover Insurance; Nanocomp Technologies, Inc; Newforma; Single Digits; TD Bank; and NH Business Review.