By Cindy Conde, IT leadership executive, CondeCo
2017 marked the inaugural year of the revived BioTech/MedTech Cluster (BT/MT), a new, industry vertical of the Council. Although we are still in startup mode, we have made significant traction, building excitement around this new community of interest.
Our mission is to further strengthen New Hampshire's tech sector and advance New Hampshire's biotech/medtech leadership position. We are focused specifically in the biotechnology, pharma, medical device and general health technology areas. We plan to do this by providing industry relevant services, programs and support to New Hampshire's continually growing ecosystem of patient health-centric companies.
New Hampshire is part of an extraordinary, world-leading life sciences ecosystem, not just as a border state of Massachusetts, but also as a significant provider of life-changing and life-saving services, treatments, drugs, medical devices, research, innovation and advanced health technologies for people in need. BT/MT member companies are making a difference here in New Hampshire and beyond.
Since May we have held three successful industry events including:
Our inaugural event, hosted by Medtronic at their Portsmouth facility. This kick-off event was attended by nearly 100 people, and included a panel discussion titled "BioTech/MedTech Leader Perspectives & Why NH?" The panel included industry leaders Suzanne Foster, VP and general manager of Medtronic Advanced Energy, Herve Berdou, site head for Lonza Biologics, Tom Burns, CEO of Resonetics, and Christina Ferrari, attorney at Bernstein Shur.
SEE Science Center hosted our September event titled "Building Bridges." The event focused on building bridges between education, government, industry and STEM education and opportunities in New Hampshire. Speakers for this event included Taylor Caswell, commissioner of the NH Department of Business & Economic Affairs, Terry Wolf, state representative for Bedford, New Hampshire, and David Benedetto, director of STEM Education for New Hampshire.
The University of New Hampshire Manchester hosted our cybersecurity event in November. The event, titled "Cybersecurity & Data Privacy in the Health Tech Industry," showcased a real-world cyberattack case study from Jim Spears of In-Cal, a New Hampshire-based calibration company supporting the BT/MT sector, followed by a panel discussion moderated by Christina A. Ferrari, attorney at Bernstein Shur. The panel included cyber experts Andrew Seward, chief information security officer for Elliot Health System, Carl Kraenzel, chief information officer for IBM Watson Health, and Jim Turner, director of software engineering for Sunrise Labs.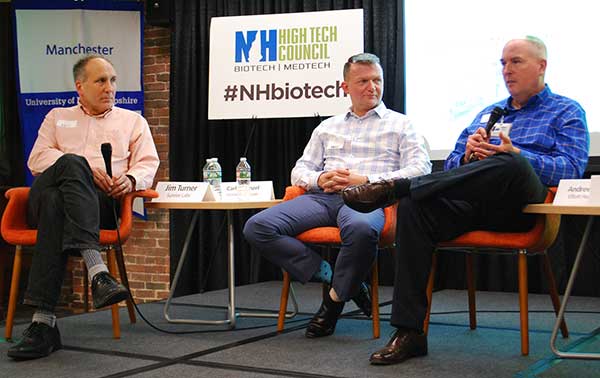 As we look ahead to 2018, we will continue to work diligently on increasing membership, as well as engaging more than 25 prospective members in the BioTech/MedTech sector. We expect to achieve this through content-rich events, beginning with a New England regional event in March 2018, focused on building awareness of ARMI, and its potential, regional impact. We are partnering with the Massachusetts Biotechnology Council and other organizations for this event, and hope to attract 250 attendees. We are also scheduled to have an active presence at the BIO International Convention in Boston in June 2018.
We look forward to continued momentum in 2018, and we hope you will join us on this journey!