Photo: Shaylyn Kelly, Events United
Product Description
The SL100 is the most widely used and requested stage in the live event industry. It is easy to operate and allows for a highly professional stage to be set up in almost any location in less than an hour.
What problem does the product solve?
The stage is fully customizable for events. You can hang lights, speakers, LED wall, banners, and more from the roof! It takes less than an hour for set up and completely transforms the look of an event.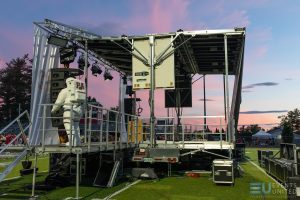 Photo: Shaylyn Kelly, Events United
Why do you think New Hampshire is a good place to innovate?
New Hampshire is a great place to innovate because of the endless opportunities the state provides from the landscapes, people, schools, and business. The community of creatives is ever growing. New Hampshirites are working towards the common goal of making this state the best it can be which makes innovating a thrilling and unique experience.