This week's Member Monday features the Paul College UNH Center for Business Analytics. The Center for Business Analytics is focused on bringing real-world value to the community of students, faculty/researchers, and industry partners through experiential learning projects, workshops, internships, consulting projects, and more. We help businesses leverage university resources to help them solve real problems within their own organization, while at the same time providing students more pathways—and hands-on training—to engage with industry.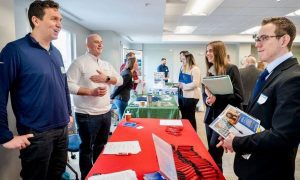 Why was NH chosen as the home of your organization? What do you love about New Hampshire?
Established in 2021 as part of a $6 million gift from UNH alumnus, Peter T. Paul ('67), the Center for Business Analytics wants to help students, faculty, and industry build their capacity to manage and analyze data. A recent report in Forbes shared that, "95% of businesses cite the need to manage unstructured data as a problem for their business." Often, though, businesses don't know where to start when it comes to their own data needs. In 2013, Peter Paul himself said he believed his partnership with UNH and Paul College would be "one of his best investments ever," and we've seen the fruits of that play out in real time: new opportunities created for students who have and will continue to become leaders in our state; increased access to technology; cutting-edge research; and more. This is one of the many things we love about New Hampshire: the constant innovation.
What are some recent accomplishments or milestones?
We recently spent four days in Washington, DC., working with one of our industry partners, Synectics for Management Decisions, at their headquarters in Arlington, Virginia. Four student interns at the Center are supporting Synectics on a process improvement project involving RPA (robot process automation) and have been working closely with the company's entire leadership team, including Chief Operating Officer, Jeff Spears, who is onsite at the Center every Thursday serving as an industry mentor to our team. The work our students are doing is incredible and is expected to have a big impact on saving time and money for Synectics. Earlier this year, we hosted a Technology & Analytics Career Event that was attended by almost 200 students and 25 companies. We also established an industry ambassador program that consists of 23 industry professionals who have agreed to support and mentor students as they move through UNH. It seems like every day we're doing something new, which is incredibly exciting.
What new and exciting things do you have planned? 
There is a lot planned for this coming year. This fall, we're launching an industry office hours program in which industry experts will work onsite at the Center while also making themselves available to meet our students. Leaders from Microsoft and Liberty Mutual will be here to kick the program off in September. We're also introducing a series of workshops and lectures at no cost to the community.