This week's Member Monday features Cookson Communications, a Manchester, NH-based communications agency founded by Matt Cookson in 2010 that specializes in public relations, content creation, creative design and branding, digital services, and custom consulting services. According to the agency's site, its approach is "deeply rooted in finding and telling our clients' stories, redefining, updating and elevating their brands and building connections that create better opportunities to be seen by their target audiences." Some of the agency's clients include ApprenticeshipNH, NH Healthcare Heroes, the Community College System of NH, and even NHTA. Interested in learning more about how this agency is making an impact in the community? Check out the interview below and visit their website.
Every week, we will be spotlighting members of NHTA to bring awareness to the entrepreneurs, businesses, and innovators of New Hampshire's expansive tech community. Be on the lookout every Monday for an opportunity to learn more about the exceptional members of the Alliance.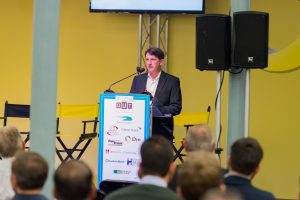 Why was NH chosen as the home of your company/branch? What do you love about New Hampshire?  
We chose to start and grow our communications company in New Hampshire, and Manchester specifically because we saw a growing need for our services. We love how interconnected everyone is in the state with support and recommendations from our clients (which we refer to as partners) and others within our networks. This has helped us become a multi-service agency that has done work in over a dozen states and steadily expand our offerings to include branding, design, and website development on top of the public relations, social media, marketing, and advertising functions that we offer.
What are some recent accomplishments or milestones of your company? 
We celebrated our 10th anniversary in November 2020. While we could not have the celebratory event we originally envisioned, it is still a big milestone. We are grateful to our staff and partners for their great work and support over these years. We are working on some very exciting and meaningful projects this year which includes helping promote a free gift of a college class for high school seniors at any NH community college this fall, building a new website for the Advanced Regenerative Manufacturing Institute (ARMI), promoting the new offerings from the recently renovated and re-opened Lakeport Opera House and recognizing our "healthcare heroes" across New Hampshire for their critical work and encouraging others to pursue careers in healthcare.
What new and exciting things do you have planned? 
We never know what the next phone call or email will bring, which makes this work exciting, challenging, and fresh. One day it might be helping the New Hampshire Boston Regional Airport announce that Spirit Airlines will be flying out of the airport or making more people aware of the educational opportunities available across the state for high schoolers at our Career and Technical Education Centers. 
Tell us a fun fact about the company.
Cookson Communications ran the NH Tech Alliance for nine years until 2019 when the Alliance had grown to a point of self-sufficiency and was able to hire its own full-time staff. We loved working with the Alliance and engaging with the technology community and are happy to now stay involved as active members. 
Connect with Cookson Communications on social media:
LinkedIn: https://www.linkedin.com/company/cooksoncommunications/
Twitter: https://twitter.com/Cookson_Comm
Facebook: https://www.facebook.com/CooksonCommunications/