This week's Member Monday features Aquinas Consulting, a specialty firm that provides engineering, IT, and manufacturing staffing solutions. Based in Milford, Connecticut, Aquinas was founded by Haruthay "Pam" Rasmidatta and Thomas Mercaldo in July 2000. Since its inception, the firm has expanded and established locations in Portsmouth, NH, Boston, and other cities around the nation. 
Learn more about Aquinas Consulting by visiting the website here and check out the interview below.
We are spotlighting members of NHTA to bring awareness to the entrepreneurs, businesses, and innovators of New Hampshire's expansive tech community. Are you a member of the Alliance and want to participate in Member Monday? Fill out the interest form here for more info.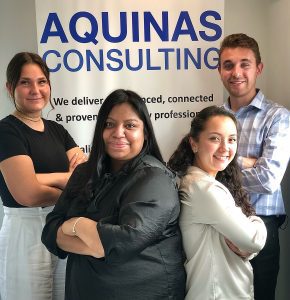 Why was NH chosen as the home of your company/branch? What do you love about New Hampshire?
Aquinas was looking to expand north from our roots in Connecticut due to the strong IT and engineering market in New Hampshire and northern Massachusetts. Many of our southern New England clients have locations in New Hampshire. In 2019, Aquinas was able to do so because Account Executive Justin Gerwien had the opportunity to move with his family to Portsmouth and establish their office in New Hampshire.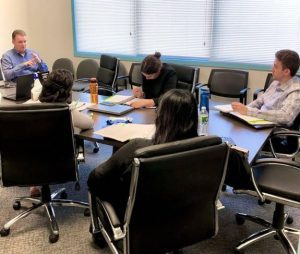 What are some recent accomplishments or milestones of your company?
While many businesses struggled through the COVID-19 pandemic, Aquinas locked arms, worked together, and were able to have a record year.  We maintained our internal team through the pandemic and placed over 225 technical professionals in 2020.  When many people were struggling to maintain or find a job, we were able to identify roles for candidates and solve pain points for our clients. Aquinas celebrated 20 years in business in 2020 and was proudly voted Connecticut "Best Place to Work" for a third year in a row.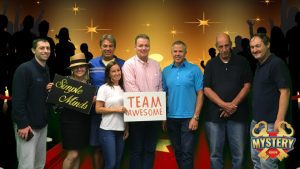 What new and exciting things do you have planned? Or tell us a fun fact about the company.
An interesting fact about Aquinas is that we are a Women of Color-owned company that has been certified by 4 different certification authorities (including the Greater New England Supplier Diversity Council and the U.S. Small Business Association).  In addition, Aquinas is an SBA Small Business and has consistently ranked among the top privately-owned and diversity-owned businesses in Connecticut and the United States
In 2020 Aquinas was able to capitalize on our growth and momentum. In June, we launched our rotational Aquinas Leadership Development Program (ALDP) and brought on four highly-motivated recent graduates as the first ALDP Class. These early-career folks received in-depth training on all aspects of the staffing business and will have the opportunity to experience various roles and determine where they are most successful.
Stay connected with Aquinas Consulting on social media: 
LinkedIn: https://www.linkedin.com/company/aquinas-consulting/
Twitter: @AquinasJobs
Facebook: https://www.facebook.com/aquinasconsulting