Startup Shindig is a celebration of entrepreneurs and the startup ecosystem in New Hampshire. This event is the demo day for the group of startups going through the Accelerate NH startup program each spring.
This year's event was held on Thursday, May 30th at the Oracle + Dyn office in Manchester, and was a special marker of the growth of the program over the years. Now in its fifth year, Accelerate NH has had 45 startup teams participate in the program and had its largest cohort yet this year with 11 teams.
Startup Shindig is an opportunity for networking with those tapped into the startup ecosystem in the state and is a great way to learn about up and coming startups through hearing the pitches of the cohort.
The event kicked off with Joshua Cyr, Director of Education & Acceleration for the NH Tech Alliance talking about the importance of entrepreneurs for a healthy economy and why supporting entrepreneurs is so important, "As I think back over the past 5 Accelerate NH cohorts I am inspired. The 45 businesses we have worked with through the program have grown, been funded, made hires, and bring in real revenue. These businesses are making their mark on NH and beyond. What we are here for today is not a celebration of people such as myself, who aid and support entrepreneurs. Rather we are here in a celebration of entrepreneurs themselves".  
This was followed by pitches by the following startups going through the 2019 Accelerate NH cohort:
IDEAL Energy is a purchasing cooperative that will sustain a network of local independently-owned energy distributors through volume savings by aggregating fuel, equipment and business service purchases. IDEAL is owned by its energy members and will market a best-in-class brand supported with best practices, and operational and strategic training. Fuel local!
Underground Overdrive™ has the DIY tools to help artists wrangle the process of booking and managing their team, present a professional essence and more. It's time to let go of the spreadsheet. It's time to Get Your Act Together.
Helios Hockey delivers smart performance tracking and analytics. Our sensor-based IoT technology automatically captures hockey stats in real-time and streams them to mobile and cloud analytics platforms. We are a team from MIT and the NHL building products for the next generation of player, team and equipment development.
Delivering digital textbooks to students at a flat rate semester subscription that is embedded within tuition. ecoText is a mainstream platform that creates an ecosystem where the publishers, universities and students all benefit economically, educationally and environmentally.
Altering the Matrix of Politics
Founded by Sam Warach following the death of his brother from a prescription drug interaction, NextStep HealthTech is a mission-driven company that develops personalized solutions to improve health literacy, access to care, treatment delivery and quality. Offerings are designed from evidence-based research to improve outcomes for substance use, opioid use, and mental health conditions. NextStep HealthTech provides infrastructure for people to take their next step toward wellness when they need it, wherever they are.
Canopus Water Technologies is a developer and manufacturer of non-chemical water disinfection products. Canopus has recently introduced the C-UV100 product family, the best Ultra Violet (UV) sanitation offering in the market based on state of the art UVC-LEDs and a unique reactor design.
Reflen's AI platform enables customers the ability to wrap new experiences around their current software.  Reflen senses and understands employee behavior in order to optimize digital workflows.
Iris Messenger is a secure, HIPPA compliant telehealth platform that connects important people in a child's support network.
Performology helps sales organizations align employee compensation with performance and company profitability, which causes an increase in daily sales activities and rapid growth!  Performology is completely automated, which eliminates excel, manual errors, and countless hours of commission processing.
Measured Air Performance developed and launched SmartStackTM in 2018. This innovative product monitors the cleanliness of lab exhaust air and indexes the associated exhaust fans accordingly, driving significant energy savings.
Millworks Fund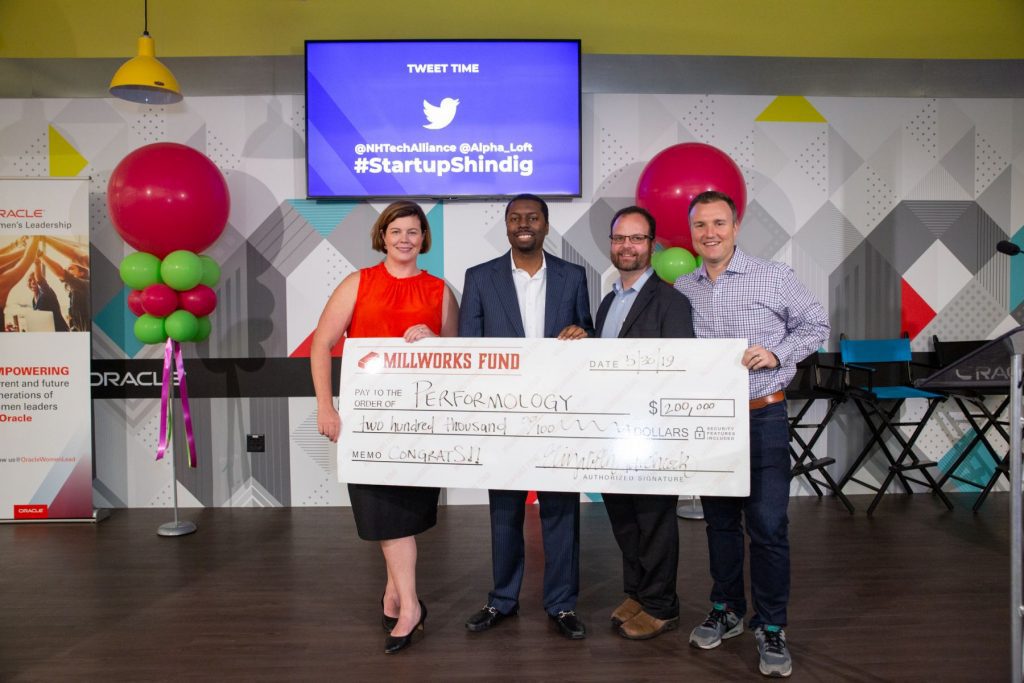 The event ended with a presentation of checks to two of the startup teams in this year's Accelerate NH cohort by the Millworks Fund II.
Accelerate NH cohort participants have the opportunity to pitch for potential investment through Millworks Fund II, but it is not a requirement to participate in Accelerate NH. Learn more about Millworks Fund II.
Performology of Nashua received a $200,000 investment, and $100,000 went to Echo Ridge of Concord. Both teams were called up on stage and recognized for this new funding from Millworks Fund II. The Millworks Fund II has provided $900,000 in investments to startups participating in the Accelerate NH cohort over the past three years.
Congratulations to Performology and Echo Ridge, and we are looking forward to seeing what the future will bring for the 11 startup teams that were a part of this year's cohort.